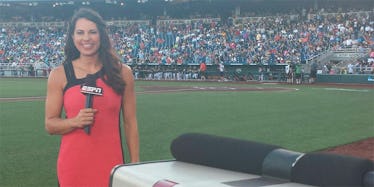 Radio Host Goes On Sexist Rant About Female Announcer Calling MLB Game
Last night, former USA softball star Jessica Mendoza become the first woman to call an MLB playoff broadcast from the playoff booth.
During the game between the Yankees and the Astros, it was abundantly clear why. Her analysis of the game was detailed and nuanced.
In short, she showed she knows what she's talking about and, most importantly, proved she's great at articulating and dissecting the most complex parts of the game for the audience.
That's where the story should stop. But of course, it didn't.
That particular tweet was since deleted from Mike Bell's Twitter account, but the Atlanta sports radio host went on a sexist rant against ESPN and Mendoza, apparently, to defend the sanctity of the baseball announcing booth.
Here are some of Mike Bell's gems.
Bell's long line of tweets paid very little attention to Mendoza's actual talent as an articulate commentator.
Of course, Bell ended his commentary with a sincere apology for calling Mendoza an offensive name by going out of his way to cite the offensive name.
What a guy.