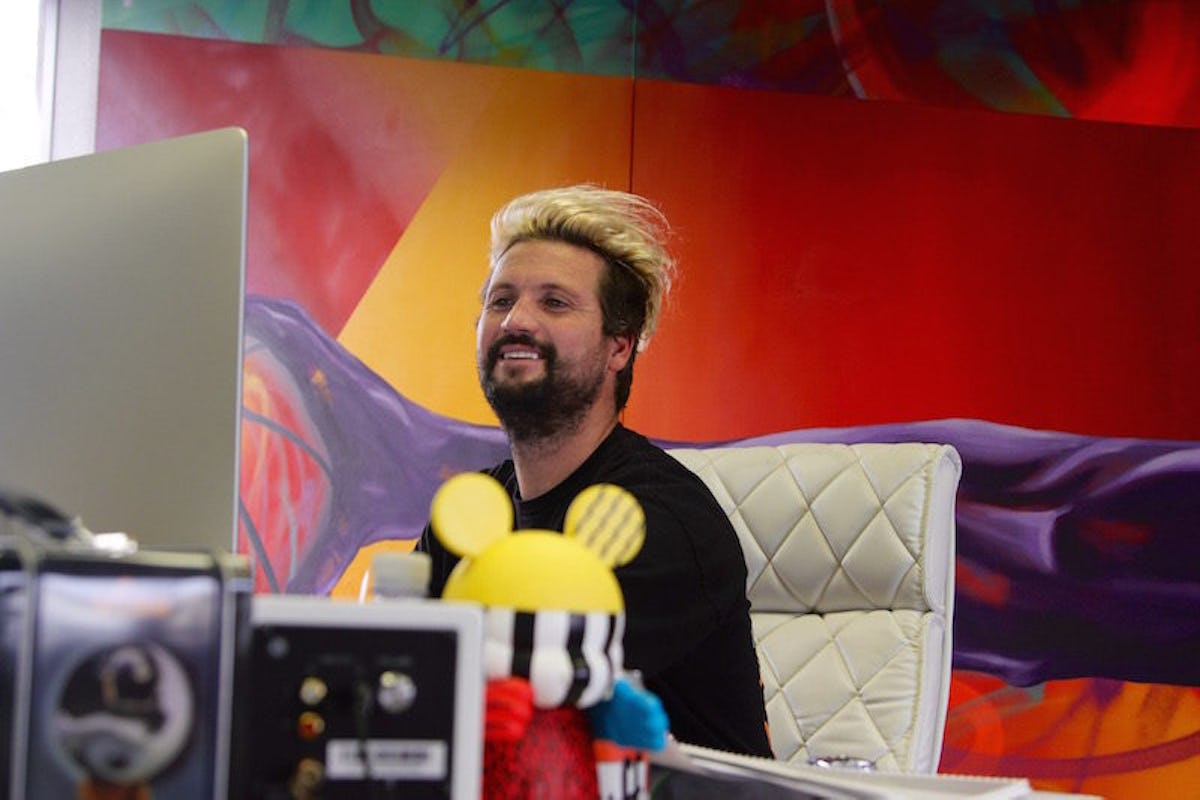 Follow Your Passion: How Shaun Neff Turned A Beanie Into A Multi-Million Dollar Empire
"The name isn't even my last name anymore."
Shaun Neff gave up his name 14 years ago when he walked into a dollar store, picked up a Sharpie, scrawled his name across a headband and handed it to his buddy to wear on national television.
At 22 years old, Shaun famously launched his moniker headwear line, known as Neff Headwear, by finding a loophole in the clothing contracts of his professional athlete friends.
Basically, I said, 'Hey, can you guys rock my t-shirt? You're gonna do this photoshoot, you're gonna go do this contest,' and every time it was like, 'No, I have a clothing contract with Burton,' or these big apparel guys. I had never seen a contract. So I took two home and read through those contracts and the light went off like, 'Wow, there's nothing about headwear.'
A few days after handing a Neff headband out, Shaun says, he saw another kid wearing his gear as he walked down the street.
I followed him for like two minutes.
For Shaun, there was never a choice about what he would do with his life.
I think I just had this dream and well, it felt so real to me, I was just like, 'OK, I made up my mind.' I made this decision, and I felt so good about it.
Shaun is as confident today about his brand as he was all those years ago. And with good reason.
Since the early days, Neff has branched out into more than just sweatbands. As Shaun humbly puts it, he's now "slinging t-shirts and beanies."
And it appears his "beanies, tees and steez" have paid off. Neff has grossed a reported $100 million to date.
But beyond that, the company, which employs hundreds, sells a plethora of items in partnership with everyone from deadmau5 to Wiz Khalifa. Neff's newest partnership with Kevin Durant will bring them into the underwear game.
The company's success may be due in part to remaining incredibly authentic to who Shaun is.
As you walk into the doors of Neff's headquarters, you're greeted with a sign reading,
Neff, like a gumball machine spitting out endless flavors.
This slogan could be as true for its founder as it is for the clothing.
Shaun is a hyper-charismatic character. He's tall, has bleached-out hair, wears a ring on nearly every finger and talks to you like you've known each other for life.
His office is also just as eclectic as the line and its founder. It's all white, large, kind of like an office you see in the movies, with a huge painting of Michael Jordan. On his desk, a signed photo of Bill Gates sits next to adorable pictures of his family. The original Sharpie Neff headband sits front and center in a beautiful frame.
That relic of his youth may represent the best advice Shaun can give to any young person looking to make it big. As he says,
Everyone has different talents and gifts, and people are good at different ages. At that younger moment you need to hone in on, what am I naturally good at, and what do I like? And once you know what you're good at and what you want to do, then you mix that with, do I want to do this for a career or for a long period of time?
If you can answer those questions, you're already well ahead of the game.
Shaun realized both what he was good at and what he liked after a two-year church trip to Argentina.
"It really humbled me," Shaun says. "I was pretty clear on what I wanted to do."
Next, Shaun says, think about solving a problem.
If you can ever solve a problem, you're winning.
Try to make it unique, he added, because,
No one needs another Neff… you need to do something that's different.
Finally, Shaun says, "It's all about your team."
Surround yourself with people who not only support you, but also challenge you.
For Shaun, the support originally came in the way of his father, who initially helped navigate him through the minefield that is growing a legitimate business.
For starters, as Shaun explains, his father helped him finally settle on the name after a few failed attempts at naming it something else.
One of them was PURL, we had this pearl kind of logo...at the time PURL was a flower shop that had rights to apparel...So I ended up using my last name.
Now, he adds, it's all about taking every meeting and every call to surround yourself with "people smarter and more successful than you" and to try and always meet new people.
Of course, Shaun says, be prepared that when you do find a little success, other people will be trying to bring you down.
"You're going to get hated on," Shaun says. "You're going to be told you can't do it."
(Maybe DJ Khaled and Shaun are onto something…)
But beyond having the passion, an original idea and a great team, it also helps to have the mind of a fashion-mad genius that is always on.
As Shaun explains, even at restaurants he'll be checking out the font, or the cool coloring inside a restaurant for inspiration.
Literally I'll sit down at a Mexican restaurant, having lunch, and I'll be looking at the font they are using, the colors. I'll look around their decor, how certain things are working, these cool peach and lime-colored Mexican joints, and I'll start thinking spring.
And if you think this advice may be coming from a man who was merely lucky once, think again.
After launching Neff and selling an equity stake to an investment company, Shaun has added a laundry list of up-and-coming So-Cal companies to his roster of consultations and investments.
He's worked with the likes of Sony, Robinhood and Sun Bum, a California-based sunscreen company taking over the surf world.
But, a huge caveat to all this success, Shaun says, is that once you make it to the top, it's also important to be a good role model and give back.
For Neff, that's in the form of Neff Hope, a program launched with Scarlett Johansson that offers beanies to cancer patients.
"That's been the exciting piece," Shaun explains, adding, "you can now do things for the better."
In the end, Shaun proves, it's all about having the chutzpah to go for it.
No one has a better chance at winning then the guy next to him.
Now, all you have to do is put in the 12 to 13 hour days to do it and when you get there, "be grateful for what you have. You never know what tomorrow brings."
And maybe, if you're lucky, your cool last name won't belong to just you anymore.