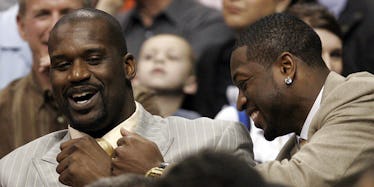 Shaq Photoshopped Himself Onto Dwyane Wade's Naked Body And It's Glorious
REUTERS
You could easily see why Shaq might have been a little jealous of Dwyane Wade after the latter announced he would be on the cover of ESPN's Body Issue.
Wade said he was conquering years of nervousness by stepping out for this issue.
And what was his reward? Well, practically every woman on the Internet started freaking out.
Dwayne Wade is one beautiful chocolate man — KG (@KayyGoode) June 21, 2016
So, yeah: D-Wade had a lot of attention being thrown his way. Who wouldn't want that kind of love and affection?
Shaq clearly wanted in. But his method of trying to get it was, well, interesting.
This isn't exactly shocking, either. After all, Shaq is no stranger to trying to take the shine away from NBA players this week.
It's not surprising that he pulled this at all. It's also not very surprising that the responses to his "cover" were a little bit different from the ones Wade's received. (OK, a lot bit.)
Shaquille O'Neal, everyone: basketball player, TNT commentator, Hall of Fame legend and comedian.
This is definitely what you call "Shaqtin' A Fool."