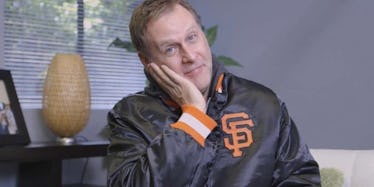 The SF Giants Recreated The 'Full House' Opening And It's Incredible (Video)
With news of a "Full House" revival coming to Netflix, the San Francisco Giants got the celebration started by recreating the famous show opening in a parody video.
The show, which ran from 1987 to 1995, took place in San Francisco, so it's only fitting the Giants would perform such an awesome tribute.
Several players, including Hunter Pence and Brandon Crawford, as well as manager Bruce Bochy starred in the video.
The team is continuing to show the love by having a "Full Clubhouse Night" on September 30, and fans will get snow globes containing the Painted Ladies homes from the "Full House" opening scene.
Citations: Watch the San Francisco Giants Recreate the Full House Opening Credits (TIME)