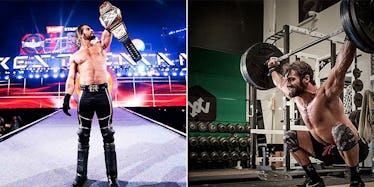 How CrossFit Turned Seth Rollins Into An Incredible Athlete And WWE Champ
Instagram/Seth Rollins
Seth Rollins has it all these days.
The 29-year-old wrestler is the youthful face of WWE's newest generation and has won the championship belt to match that reputation.
In the ring, he mixes power with athleticism, pulling off maneuvers in such an effortless fashion that you can't help but wonder how one could come to master such skills.
While the history of Rollins' decade-long journey to becoming WWE champion is well documented, there's still a certain aspect of his training and preparation that has gone underrated.
Over the past five years, Rollins has stepped into the world of CrossFit training, which has made him a better athlete.
CrossFit has not only improved Rollins' physique, though, it's had real benefits for the wrestler in the ring.
So how exactly did CrossFit come into Seth Rollins' life? The story is as interesting as the man himself:
When fans think of wrestlers, the first things that usually come to mind are personality...
Face-breaking maneuvers...
And titles.
Rarely do we think about the work these stars put in to maintain their shape, flexibility and athleticism.
While many other wrestlers work out in traditional ways, Seth Rollins has committed to a lifestyle that has him training in a way most of his peers never have.
Besides being WWE Champion, Seth Rollins is also a full-fledged CrossFit athlete.
Rollins' journey into the world of CrossFit began five years ago when an MMA fighter from his native Iowa recommended it. After trying it for the first time, he said his heart felt like it would explode.
But he was hooked from that moment on and made CrossFit a part of his everyday life.
Rollins, née Colby Lopez, is not only a fan of the most well-known CrossFit athletes...
He also competes himself, having participated in the CrossFit Games Open on multiple occasions.
He even has his own team of athletes who compete in the CrossFit regionals.
But CrossFit is not just some hobby that's separate from Rollins' professional career...
He also travels to gyms across the country while traveling with the WWE.
He's even been able to get a fellow wrestler on the bandwagon.
The biggest benefit of his workouts, though, is how they've helped him become a better athlete in the ring.
Rollins claims the way CrossFit reinforces mobility and movement patterns improved his ability to complete sick maneuvers like this:
Rollins hasn't been shy about sharing testimonials, either.
He told Men's Journal,
For me, it's tailored specifically for what we do. The intensity level is constant and high, and there's variables you can't foresee in our in-ring action. And having to work at a high level while you're under duress is something we're accustomed to, so training like that really helps us. It carries over very well into the ring.
And he explained to Box Magazine why his training helps him so much in the ring, saying,
We're running and jumping and yelling at the same time, which is a completely different kind of element. And we're landing on the mat, which takes the wind out of you. I'm telling you, the longer matches feel just like you're doing 'DT' [five rounds of deadlifts, power cleans and push jerks with 155 pounds] and you're three rounds in. Your lungs are on fire and you can't exactly see or hear straight, but you have to keep going. Your heart rate is exploding and you want to quit, but you know you still have a bunch more reps to do.
He hasn't kept the benefits all to himself, either. Rollins has a wrestling academy in Iowa that requires students to use CrossFit.
As for Seth himself, this poster pretty sums up what CrossFit has done for him.
It's no doubt his training plays a big part in how he's become an athlete worthy of carrying the WWE Championship.