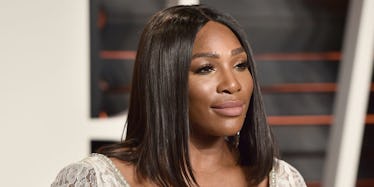 Serena Williams Proves You Can Eat What You Want And Still Be The Best
Getty Images
There is no doubt Serena Williams is by far and away the most dominant female tennis player in the history of the sport.
The 34-year-old has 21 Grand Slam singles titles to her name, 69 WTA titles overall and $75,360,291 in career prize money. But you don't even need those numbers to really appreciate Serena's greatness.
All you need to do to understand the dominance of the No. 1 ranked female player in the world is simply turn on the television and watch her play. When she's on her game, which is virtually every time she takes the court, Serena dominates whoever is put in front of her.
She dictates the pace and tempo of the match, is relentless in her pursuit of every ball and, just when you think you have an edge in a rally, Serena puts away a winner that makes you wonder why she didn't just do that in the first place.
The burning question that's been on everyone's minds for years is: How does she do it?
What percentage is God-given talent? What part is tireless work ethic? And, perhaps the thing most fans are curious about, what part is her diet?
Well, there's no doubt about the God-given talent or the tireless work ethic, but it may surprise you to learn Serena Williams doesn't always eat the healthiest things on earth.
Now, before y'all crucify me, let me be clear: I'm fairly confident Serena Williams sticks to a very healthy routine a majority of the time, but take a quick look, and you'll see she also likes to enjoy the same delicious treats as everyone else.
Not only does Serena prove you can cheat on your diet every once in a while and still compete, she proves you can actually be the best.
Aside from the 21 Grand Slam singles title, Serena Williams is exactly like us... in that we all love tacos!
Tournament victory after tournament victory is sweet, but not as sweet as an array of doughnuts and pastries.
However, before dessert can be eaten, you have to get down on some rotisserie chicken first.
Nothing says "comfort" like Mom's homemade caramel cake, right?
Except for maybe more tacos.
Delicious food is dope, but you have to have the right beverage to wash it all down with.
And this is what the spread of a champion really looks like.
Well, now we know how Serena will celebrate when she wins the title at Indian Wells this year.
But, that probably won't outdo the celebratory cake she enjoyed after reaching 700 wins.
I'm pretty sure this is the look all people have on their face when they indulge in a piece of cherry pie.
This is a tiny portion, sure, but it's still rich, creamy pasta... mmm.
Is it just me, or does gelato taste better when you eat it like this?
Serena knows how to keep it nostalgic by getting her hands on all the Moon Pies ever created.
If I had to eat just one food for the rest of my life, it would definitely be pizza.
Lest you think it's all fun and games, though, Serena does make sure she keeps her salad game strong.
While champions are undoubtedly made in the gym, in 2016, they're also forged in the farmer's market.
Citations: serenawilliams (Instagram), SERENA WILLIAMS (WTA Tennis)