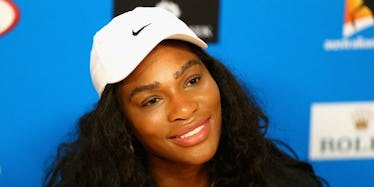 Serena's Take On Sharapova Was Key, But Everyone's Take On Serena Is Better
Getty Images
I, like most sports fans, fully expected to hear Maria Sharapova announce her retirement from professional tennis on Monday. I was ready to report on it. I was ready to say "goodbye."
I even listened to the awesome elevator music on the YouTube link to her live press conference for 15 minutes before Maria came to the podium.
We didn't get that much-anticipated retirement announcement. Instead, we found out Maria Sharapova failed a drug test at the 2016 Australian Open.
From a conference room in a Los Angeles hotel, Sharapova told us the banned substance she was caught using was meldonium, a drug she took for 10 years in order to deal with a magnesium deficiency and a family history of diabetes.
She said,
I've let my fans down. I've let this sport down that I've been playing since the age of four, that I love so deeply.
Sharapova claimed she didn't check WADA's updated list of banned substances for 2016, which is why she was busted at the year's first Grand Slam event.
In the aftermath of Maria's brief press conference, sponsors like Nike, TAG Heuer and Porsche severed ties with the 28-year-old five-time Grand Slam singles champion. And it turns out meldonium, the drug Sharapova apparently used for 10 years, is supposed to be taken just four to six weeks at a time.
There's been no shortage of responses to Sharapova's announcement, but the most brilliant take on the matter is that of the current number one women's player in the world, Serena Williams.
Speaking at a recent press conference to promote an upcoming exhibition match, Williams acknowledged how shocked everyone was, but she also used the words "upfront," "honest" and "courage" to describe her longtime rival.
Serena could've used this opportunity to kick Sharapova when she was down, and considering their somewhat tumultuous history, I'm sure there were many who expected that.
But, the 34-year-old Williams matured greatly during her career. She no longer threatens linespeople and chair umpires. She no longer refuses to shake the hand of an opponent after a bad loss.
And true to her recent form, Serena refused to pile on to the sh*t storm Maria Sharapova is currently navigating through.
Fellow pro Caroline Wozniacki didn't hold back in her assessment of Sharapova's oversight, and retired pro Jennifer Capriati laced into the Russian, using the word "cheat" and even suggesting Sharapova should be stripped of all her titles.
That's an interesting proposition. The penalty for an infraction like the one Sharapova committed could carry a four-year suspension. But, what if another player was in Sharapova's Nikes?
What if it was Serena?
I'm not trying to fuel the Internet's conspiracy theories, but you're fooling yourself if you think it's outside the realm of possibility there'd be a double standard if it was Serena who failed a drug test.
There are plenty of ignorant folks who question Serena's extraordinary physique on the regular, and you can bet if she was caught using a banned substance, the hammers of hell would come down on her. I can just hear people screaming,
Ban her for life! Strip her of every title she won since she played juniors!
You know I'm right, and I'm not the only one who shares this view.
Double standards exist at every level of society, professional sports most definitely included. What's refreshing, though, is while Serena's take on Sharapova was incredibly smart and amicable, the public's take on Serena, and the situation as a whole, was even better.
Facebook user Nykolas Scottrell Alford wrote,
I wasn't going to post about this but I just gotta!! Maria has been taking a PED for 10 years that has just been banned. I believe her story. She should checked the revised list at the end of the year. This drug is only supposed to be taken 4-6 weeks at a time. She abused this drug. Im so glad it wasn't Serena. She'd lose all of her titles and would probably never be allowed on the tennis courts again. Critics say she's a gorilla and built like a man. Can you imagine what the headline would be like if Serena was taking this same drug for 10 years and now it's banned? They would accuse her of cheating!! There's definitely a double standard. Im glad she mentioned it in her defense of Maria. It must suck to take a PED for 10 years and still lose to Serena every time.
You may not agree with Alford's take, but in my opinion, this is spot on and representative of more than just a minority of fans.
Jean Douthwright also acknowledged Serena's championship pedigree, saying,
Serena AGAIN is such a classy woman. What a positive response to the fact that another tennis player has been taking illegal drugs to enhance her play. Again I am affirmed at my support for this incredible woman and beautiful athlete, Serena Williams.
James Rafael Frew gave one of the best takes on the irony of this entire situation, saying,
This is truly disappointing -- not only because Sharapova is universally respected for her professionalism, but because of the irony of the situation. Serena Williams has beaten Sharapova 18 straight times over 10 years -- all the while dodging false accusations of doping, the only evidence being Serena's superior physicality. So, in all those 10 years that I was cheering Maria to get at least one win - she was the one taking a drug to improve her endurance? If I ever come across another prick who refers to Serena as a 'man,' I will raise my hands toward the sky, eyes turning white -- and strike him down with a furious tornado blast.
There's only one word to describe the accurate outcry of support for Serena Williams: awesome.
After she received so much hate and unmerited criticism over the years, it's awesome to see sports fans voice new appreciations for everything Serena Williams did and continues to do, both on and off the court.
Citations: Everyone turns backs on Sharapova — except Serena Williams (New York Post)