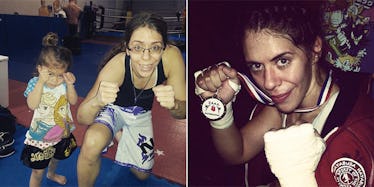 This Autistic MMA Fighter Is Proving She's One Of The Best In The Ring
Serena DeJesus is a 23-year-old amateur bantamweight MMA fighter.
Dubbed "The Southpaw Outlaw," this Philadelphia-based brawler is one of the hardest-working athletes in sports. I say this because every time Serena steps in the ring, she is fighting a few opponents. The first is the fighter in front of her; the others are the limitations that come with autism.
But while some may perceive being on the spectrum as a hindrance, DeJesus says being a fighter helps provide an outlet to cope with her Asperger's syndrome.
In a recent interview with GirlsfightMMA.com, DeJesus spoke on why MMA is such a positive influence in her life.
She said,
It allows me to pour out all my frustrations and other emotions from me being over-stimulated that have piled up in the course of the day. Whenever i haven't trained for a few days, I get a lot more aggressive and edgy with people.
The Southpaw Outlaw added,
The training makes me feel like I belong... It really helps me not feel like that awkward person no one wanted to be around, 'cause going through that once in school was enough.
But that doesn't mean DeJesus's MMA career isn't in a constant contest with her Asperger's.
She said,
Pre-fight jitters suck by themselves, but group that with loud music, flashing lights, and loud crowds, and it's a recipe for trouble for those inexperienced or unprepared for all of this going on at once. I remember my first Muay Thai match... It was so bad that I felt like my real self was seated in the front row SCREAMING at my other self in the ring to move, throw, cut angles, etc., but I wouldn't respond.
Through the sport of MMA, DeJesus has gotten the opportunity to travel, appear on a reality show and, perhaps most importantly, connect with fans.
She's also using her status to be a global voice for autism awareness.
Having lived with the disorder for 23 years, Serena knows how tough it can be for children who are learning to live with autism while still carving paths through life.
DeJesus's sister is also on the spectrum, which is why her battle to educate and help those with autism is such a vital part of her career.
She told GirlsfightMMA.com,
I am a fight ambassador for Fighting for Autism, and my goal as a MMA fighter and one on the spectrum is to show that although we aren't exactly what society expects of us, we're still brilliant and capable human beings, and we do our best no matter what. I fight to inspire kids on the spectrum and bring awareness to the general population that in the right circumstances, we can all flourish.
Here's how Serena DeJesus is winning at life, both inside and outside the octagon.
Serena DeJesus is an amateur bantamweight MMA fighter from Philly.
DeJesus refuses to let her Asperger's syndrome get in the way of her career.
In fact, the 23-year-old is currently undefeated in MMA competition.
Much of her success is attributed to a meticulous training schedule.
But it's her love for her fans that really motivates her to be the best.
DeJesus is as focused as any fighter in the sport, but spending time with her family is also of great importance to her.
Her MMA career has given her the opportunity to be a winner inside the ring...
But it also gave DeJesus a platform to speak out on behalf of those, like her sister, with some form of autism.
https://instagram.com/p/rxXwIilcIk/embed/
She also had the chance to feature in a movie alongside Miesha Tate, Holly Holm and Cris Cyborg.
At the end of the day, Serena DeJesus' autism doesn't define her; it's just part of what makes her the awesome fighter and individual she is.
Citations: Seemingly Harmless: MMA, Autism & Me (Girls Fight MMA), serenasouthpaw (Instagram)