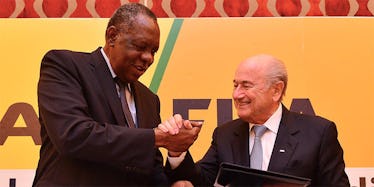 Why Sepp Blatter Is Both The Most Hated And Most Loved Man In Sports
Facebook/FIFA
Every single day, the reputation of FIFA president Sepp Blatter unravels at the seams.
On Monday, the New York Times reported on $10 million in payments that were "central elements of the bribery scandal" that FIFA is facing, made by Jerome Valcke, FIFA's secretary general and Blatter's right-hand man.
On Tuesday, Blatter announced he would relinquish his presidency within the next year so that FIFA could undergo proper reform.
He did so, just days after intimating that resignation would be an admittance of wrongdoing.
Blatter to Swiss TV on Friday: "Why would I step down? That would mean I recognise that I did wrong." — Ben Rumsby (@ben_rumsby) June 2, 2015
On Wednesday, details of former FIFA executive committee member Chuck Blazer's guilty plea were released, revealing that bribes were accepted in relation to multiple soccer tournaments during Blatter's tenure.
On Thursday, it was revealed FIFA paid off an aggrieved Irish soccer federation after a blatant refereeing error cost them a spot at the 2010 World Cup.
THIS JUST IN: FIFA admits to giving Ireland $5 million in compensation for missing out on a place in 2010 World Cup. http://t.co/KQwG6CKPWi — SportsCenter (@SportsCenter) June 4, 2015
The string of revelations, and the almost unbelievable reliability with which they come daily, only support the narrative that has been stirred by sports media for the past few years; FIFA is corrupt and Sepp Blatter is the single greatest villain in sports.
But therein lies one of the most fascinating parts of this whole story.
Blatter, contrary to all the coverage he receives in the US and Western Europe, is not actually a universally reviled figure.
In fact, the FIFA scandal has been so much less about a World vs. FIFA narrative and so much more about the massive disconnect between the colonial nations and the rest of the world.
Blatter's resignation has uncorked a river of Twitter love from around the world toward... the USA and the FBI. Did not see that coming! — Chris Anderson (@TEDchris) June 2, 2015
So, no, the soccer-loving world doesn't agree with everything we think about Blatter, nor do they love us for setting them free from some evil tyrant.
As Blatter's (now insignificant) re-election last Friday proved, most of the world is actually on Blatter's side.
There are reasons for that, beyond the generally shallow, and borderline insulting, explanation that we frequently receive here in the US (that Blatter keeps money flowing to heads of smaller soccer federations).
Take Asia, for instance. Their allegiance to Blatter is simple to understand.
John Duerden wrote in The Guardian,
A clear majority voted for Blatter against a candidate from their own backyard, an appreciation not just of the money that has flowed east from Switzerland but the sense that in Blatter's tenure, Fifa was no longer the arrogant Euro-centric club that kept Asia on the outside looking in.
ESPN FC African correspondent Colin Udoh wrote in a similar vein on his personal blog, where he discussed why Africa gives Blatter his backing.
As Udoh states, it is less about money and more about making the game of soccer more inclusive and truly global. He writes:
The Swiss [president] increased development funding almost 40-fold. He pushed the GOAL Project which helped fund national federation headquarters and built training pitches. Capacity-building programmes for coaches, administrators and referees also flourished under Blatter.
In fact, the difference between Sepp Blatter's FIFA and the FIFA of old, in respect to democratizing the sport, is incredible.
1966 World Cup was boycotted by African nations. The tournament had never even been hosted outside Europe and the Americas until 2002, Blatter's first World Cup.
Instead of a man who supported an apartheid regime, like former FIFA president Stanley Rous did in the 60s, there's Sepp, who distributes World Cup TV revenue equally among all 209 member nations.
For those who have that favorable image of Blatter, you might understand why accusations of bribe can seem inconsequential compared to other charitable works the developed and already-wealthy world doesn't see.
In Somalia, the federal government thanks Blatter for "keeping football alive" with aid amid a civil war.
And as Udoh writes,
When Ebola broke out at [sic] in West Africa, FIFA was the first international organization to step in and offer aid.
Blatter has his faults, for which he will likely (and deservedly) pay for soon.
But the fact that he has genuinely done a lot of work in the interest of generously growing the game will always make him a polarizing figure.
And while "growing the game" might be seen as the least one should expect from FIFA, it's much more than a consideration that less well-off nations have come to expect from mostly-white-led organization.
The end of Udoh's blog makes that clear.
Africa does not trust Europe. And until Europe, or whichever candidate its flavour of the month is, shows concrete evidence that Africa's interest will be given the same seat at the table, status quo will remain.
That is what makes Blatter one of the most hated or most loved men in sports, depending on who you ask.