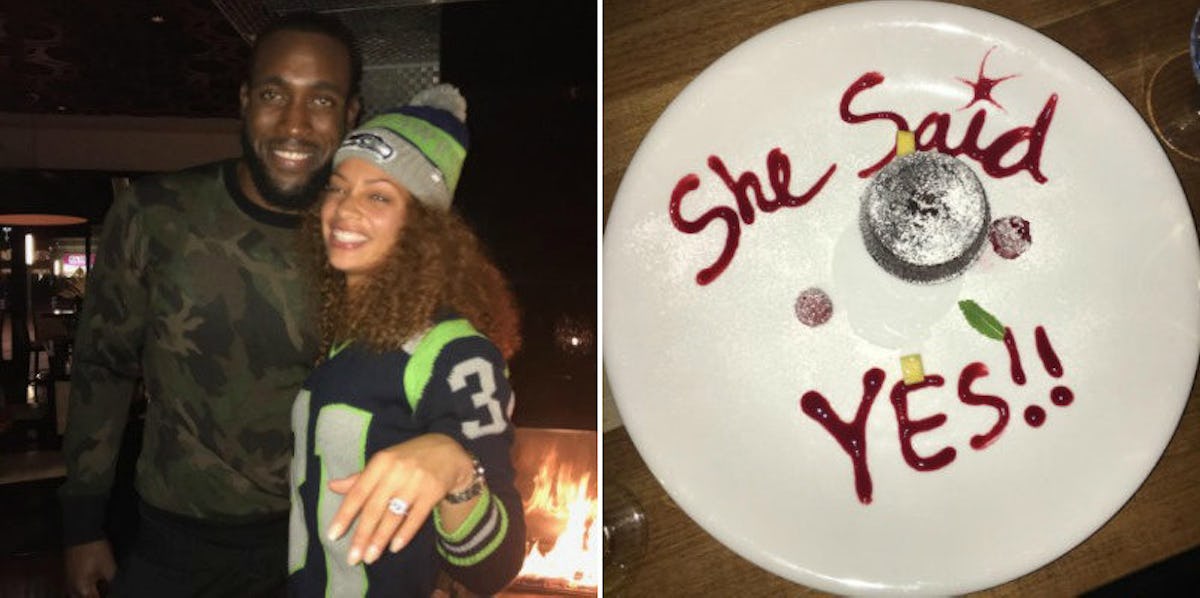 A Seahawks Player Had The Most Adorable Proposal After Beating The Bills
Instagram
'Tis the season... to get engaged.
How do you follow up a 31-25 win over the Buffalo Bills on Monday Night Football? Well, if you're Seattle Seahawks safety Kam Chancellor, you get down on one knee and ask your girlfriend to marry you.
The 28-year-old NFL star didn't actually take the field Monday night against the Bills, as he was out with a groin injury, but he made the play of the day by pulling off the cutest proposal ever for his girlfriend, actress Tiffany Luce.
As you can see in the video above, Kam's highlight-reel play is worthy of all the praise in the world. Take note, my fellow boyfriends, because a roaring fire in the backdrop is a guaranteed way to set the mood and makes sure your girlfriend, you know, actually accepts your proposal.
Luce captioned the above photo with a bunch of emoji faces, clearly at a loss for words following her engagement.
It appears Tiffany Luce had no idea Kam Chancellor was going to propose, and you can hear her say,
Oh my gosh! Oh my gosh!
Obviously, Luce accepted Kam's proposal, vigorously shaking her head up and down. I mean, she was wearing his jersey, so it would've been hella awkward if she rejected the Seahawks' safety.
According to TMZ, Kam Chancellor's adorable proposal was recorded by his friend, Giovanni Ruffin, who did a fantastic job of capturing the moment.
Shoutout to Kam and Tiffany, right? Depending on who you follow on social media, you might think love is dead. It's folks like the Seattle Seahawks safety and his new fiancée who prove otherwise.
Let's also take a moment to point out the fact Kam didn't just put a diamond on his girl's hand, he gave her a goddamn rock! She might need a big bracelet on her right hand just so she's not slumping over when she walks.
Congratulations, Kam and Tiffany!
Citations: SEAHAWKS' KAM CHANCELLOR PROPOSES TO GF ... After Beating the Bills (TMZ)