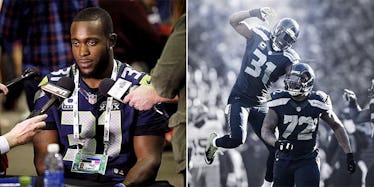 Legion Of Doom: Why The Kam Chancellor Holdout Should End All Holdouts
Instagram
Kam Chancellor is no stranger to delivering big hits. But right now, his reputation is the one currently taking a devastating blow.
Known for putting the boom in the Legion of Boom, the Seattle Seahawks' self-proclaimed defensive secondary, Chancellor is at the epicenter of yet another contractual dispute in the National Football League.
Chancellor, whose nickname is "The Enforcer," is holding out from showing up in the Pacific Northwest because he is unhappy with his financial situation.
Originally drafted in 2010 from Virginia Tech, Chancellor has since become a Pro Bowl strong safety and a Super Bowl champion.
As a result of his accolades in 2013, Chancellor was handsomely rewarded by the Seahawks with a new, four-year contract totaling up to $28 million.
Just one year into his new deal, Chancellor is already making demands for a newer one to be put in place. Some would argue he has a solid case for a pay raise, but last I checked, a contract is binding.
One can understand the frustration that comes with seeing your peers receive additional remuneration for performance, which could explain why Chancellor is butting heads with his employer.
The fact that the Seahawks have decided to rip and tear the contracts of teammates Russell Wilson and Bobby Wagner for new ones is entirely on them.
In other words, they didn't have to. They wanted to do so because they felt the players earned it.
Evidently, Seattle doesn't think the same about Chancellor's current status on the team and that isn't likely to change anytime soon. On the other hand, Chancellor isn't willing to budge, either.
Can you say stalemate?
As a die-hard Seahawks fan and life coach, I tweeted my sentiments as only I knew how:
My attempt to inspire and motivate was futile. Not only did my post fall on deaf ears, Chancellor also proceeded to block me on Twitter; something he's used to doing quite well.
Granted, it's social media. It doesn't make much of a difference in my life, but his actions told me I pushed his buttons and got to him.
At this point, I'm almost certain the Seahawks believe Chancellor is behaving like the kid who only got one scoop of ice cream while his friends got two.
John Schneider, Seattle's general manager, is playing the role of the ice cream truck driver. He is essentially saying Chancellor isn't getting any additional "scoops" right now because he just got served.
Until one of the two parties decides to make amends, this staring contest may very well play itself right into the football season.
Michael Bennett, Chancellor's defensive teammate, recently held out as well, due to what he believed was a discrepancy in his contract.
The difference is, Bennett soon realized he wasn't doing anyone any favors by staying home and reported to camp just a week later.
For the sake of the team, Chancellor should follow suit.
The Seattle Seahawks pride themselves on being a family; on team unity and their "we're all we've got, we're all we need" slogan of brotherhood.
Chancellor is undoubtedly putting that motto at risk with his absence.
It's been well-documented that the reason Chancellor is unhappy with his current contract is because he feels he outplayed the terms under which he initially agreed to play.
There's a flip side to that coin.
If a player underperforms based on the amount of money he's getting paid to play, is he willing to admit it and give some of his money back to the team? My guess is the answer to that question is a resounding no.
It's funny how that works.
I'm not saying this is the case with Kam Chancellor. We all know he's earned every penny coming his way. Chancellor, however, is only one year into his new deal and already asking for a raise.
That's what happens when your fellow teammate and star player, Marshawn Lynch, plays that card and gets away with it.
If this were real life and a cube farm employee refused to show up to work on Friday, he wouldn't have a job come Monday morning.
In order to prevent this situation from ever happening in the future, organizations would be wise to insert a clause that states no contract will be renegotiated with more than two years left on its schedule.
I have no doubt in my mind the rest of the Legion of Boom would love to have Chancellor in pads for the upcoming season.
There's no better peace of mind than looking over your shoulder and knowing the league's best strong safety is there to cover your back, especially after wanting to take the taste out of your mouth that still lingers.
The question is, why is Chancellor being treated so fairly?
As if holding out wasn't a dumb enough idea already, Chancellor is losing $30,000 in fines for every preseason practice he misses.
Additionally, if Chancellor were to become a ghost during the season, the Seahawks are allowed to fine him more than a quarter of a million dollars.
In what world does holding out make sense if you're defeating the purpose of your actions?
If you ask me, Chancellor is playing a game of chicken he won't win. He's not suited to be riding the sidelines as a spectator. He's way too valuable.
Kam Chancellor belongs on a football field, damaging people's souls.