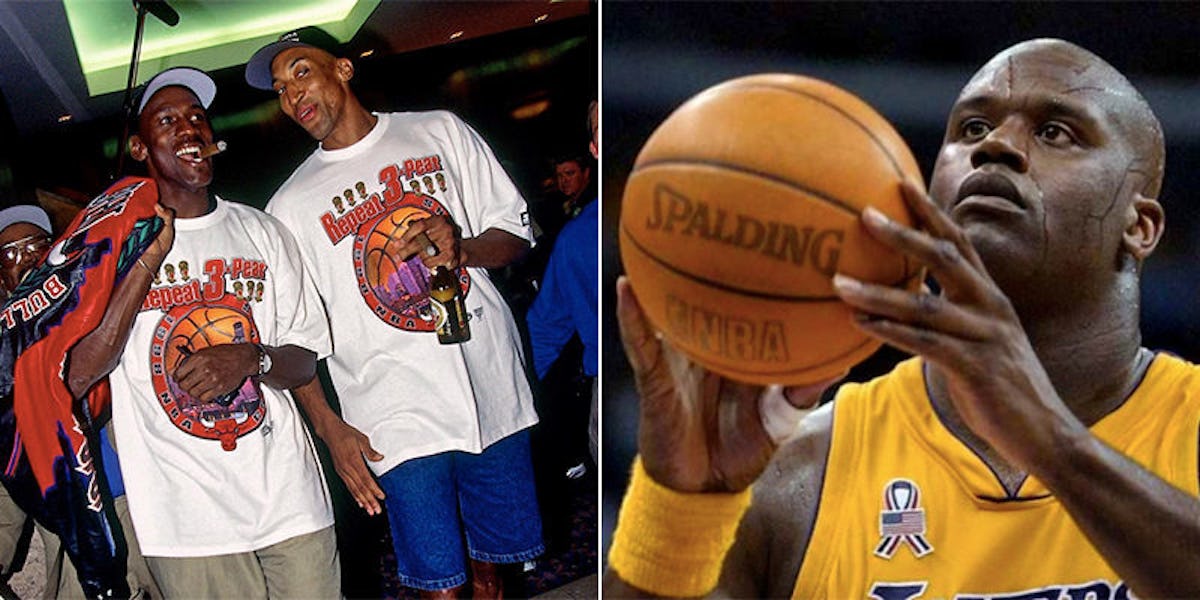 NBA Legends Scottie Pippen And Shaq Just Went To War On Instagram
Instagram
Sh*t is getting extremely real between NBA legends Shaq and Scottie Pippen on Instagram.
Of course, Shaq started it with an Instagram pic claiming an all-time Lakers team would beat down an all-time Bulls team by at least 50 points.
But, is he wrong?
Shaq fired some serious shots at the Bulls yesterday.
We would beat em by fifty 'what you think.' Let me know and don't hold back
Unfortunately, it was Scottie Pippen who fired back.
Sorry @shaq but I don't get caught up in hypotheticals. All I know is we won 6 titles, twice the amount you claimed while in LA...
Of course, Shaq has jokes for days and violated with this.
Sorry @scottiepippen I don't believe in hypotheticals either, but I seen most of those final you did OK , but this guy did most the work . #youwereok steve kerr and Ron harper deserve more credit than you , remember I WAS BATMAN YOU WAS ROBIN , I was PUFFY YOU WAS MASE...
Scottie went on to go for the oldest joke in the book.
Easy big fella... if only you were as good at free throws as you are talking smack! @shaq
But then, Shaq got real creative and went straight for the jugular.
Anybody need a T MOBILE SIDEKICK. I GOTTa PRETTY GOOD ONE #BESTSIDEKICKEVER
But for real, who pic stitches Scottie Pippen's Instagram pictures for him?
Speaking of being a sidekick... if I recall correctly you know a thing or two about that as well. @shaq
In the end, Shaq shut it down with this classic meme.
Game: Shaq.
Between this, the Action Bronson and Ghostface Killah situation and whatever happened between Lil Wayne and Birdman, grown ass men problems are trending heavy.
Let's just hope nobody has to get the tools over this one.
Citations: Shaq Rips Scottie Pippen on Instagram Repeatedly Refers to Him as Michael Jordans Sidekick (Complex )