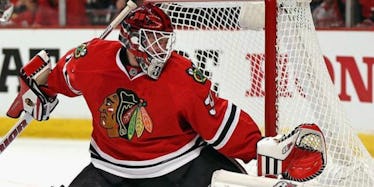 Why Scott Darling Is Already The Greatest Story Of The 2015 NHL Playoffs
Twitter
Tonight, rookie goalie Scott Darling will start in net for the Chicago Blackhawks.
Four years ago, the only ice he touched was at the bottom of the cooler he reached in to grab another beer.
Darling, who's set to make just his 14th career NHL start, is the first player to ever go from the Southern Professional Hockey League to the NHL.
But, the 26-year-old was only able to reach this height after falling to his low point on July 1, 2011.
On that morning, Darling woke up in his uncle's house in Boca Raton with yet another hangover. He weighed 250 pounds with 20 percent body fat, and his dream of being a hockey star was barely on life support.
The last-place team in the lowest professional hockey league in North America no longer required his service and his days as a standout at the University of Maine probably seemed like distant memories. But Scott Darling is proof that sometimes, it really is darkest before the dawn.
Scott Darling learned the hard way that treating anxiety with alcohol isn't the answer.
At 16, Scott Darling was out on his own, trying to make it at the junior level.
And when he stepped onto the University of Maine campus, his reputation for enjoying the party scene came with him.
But unlike plenty of young hockey players who came before him, Darling didn't drink alcohol because he was a social butterfly, he did it to cope with extreme social anxiety.
Speaking with The Hockey News, Darling said,
I wasn't comfortable as a human being. I didn't think people liked me.
While at Maine, Darling turned 21 and that meant he could legally purchase alcohol. That's when, according to former Maine hockey coach Tim Whitehead, Darling really started to come unglued.
Whitehead said,
In his freshman year, we saw a guy who liked to have a little too much fun off the ice, but I've seen that with a lot of kids. But it became clear in his sophomore year that it wasn't just a typical kid going through growing pains. He was suffering from alcoholism.
Having already been drafted to the NHL, Darling thought he was invincible.
If you were a 21-year-old kid who was sure you were turning pro in the coming years, you might shrug off any criticism you received in college, too.
But Darling's problem was he didn't realize he couldn't just turn off his dependency on alcohol once he got to the next level.... And getting to the next level and staying there are two very different things.
Darling planned to sign with the Phoenix Coyotes in 2010 -- having been drafted by the organization three years earlier -- but he showed up to camp out of whack both mentally and physically, and that soon led to his dismissal.
This began an odyssey that took Darling from the lowly SPHL all the way to starting NHL goalie.
Scott Darling's hockey tour of duty had several stops: He played for the Florida Everblades, Mississippi RiverKings, Las Vegas Wranglers, Capital District Selects, North Iowa Outlaws and the Louisiana IceGators.
Most NHL fans would be hard-pressed to recognize even one team on that list.
But in the summer of 2011, Darling made the leap from the SPHL to the more prestigious ECHL (East Coast Hockey League). And most importantly, he was no longer drinking.
Thanks to former Boston Bruins goaltending coach Brian Daccord, who he used to train with, and an injury to Nashville Predators goalie Pekka Rinne, Darling found himself playing for the Milwaukee Admirals in the AHL (American Hockey League).
Following his stint with the Admirals during the 2013-2014 season, in which he posted a .933 save percentage, Darling landed a minor-league deal with the team he rooted for as a kid, the Chicago Blackhawks.
Because of injuries in Chicago, he made his NHL debut this past October -- winning two out of the three games he started in goal (his one loss was a 1-0 defeat).
He continued to play well whenever he was called on during the regular season.
Now, Scott Darling has gone from a feel-good story to starting in the 2015 Stanley Cup Playoffs.
When The Hockey News wrote about Darling earlier this season, we realized what an unbelievable story the Chicago-area native had to share.
But many who read the piece -- or anything else written about Darling -- thought that was where the story ended.
Darling could've been back in the AHL before season's end. The Blackhawks' regular starting goalie, Corey Crawford, will make $6.5 million this season.
But the former Stanley Cup champ got off to a stuttering start last week, paving the way for Scott Darling to make his NHL postseason debut.
With Crawford conceding three goals to the Nashville Predators -- the team indirectly responsible for Darling's final push toward the NHL -- and the Hawks facing a 3-0 deficit on the road, Darling came in and shut out the Preds for the remainder of the game.
Chicago won 4-3 in overtime.
Corey Crawford returned to net in Game 2, only to allow six more goals in a 6-2 defeat.
Blackhawks head coach Joel Quenneville knew what had to be done for Game 3.
Darling allowed just two goals in Chicago's 4-2 victory, winning his first career NHL playoff start.
Tonight, Darling will once again start in net, looking to give the Blackhawks a commanding 3-1 advantage in the best-of-seven series.
It appears his story is just beginning.
Citations: Scott Darling to start Game 4 for Blackhawks against Predators (ESPN), After overcoming his demons, Scott Darling wants to make mark on the NHL (The Hockey News), Scott Darling (Hockey Reference), The Verdict: Success is no illusion for Scott Darling (Chicago Blackhawks), Blackhawks Game 1 hero Scott Darling reveals the secret to his success (The Hockey News), 2014-15 Chicago Blackhawks Roster and Statistics (Hockey Reference)