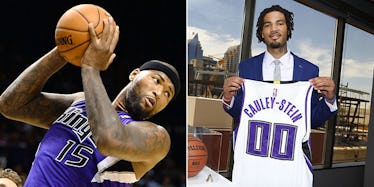 Royal Perspective: Why Sacramento Kings Fans Should Feel Encouraged
Getty Images/Facebook
The Sacramento Kings are the laughingstock of the entire NBA, and they have been for a decade.
Last season, the team teased glory when it opened at 9-6. The gritty squad snarled as they leaned on the increasingly weary shoulders of rollicking super talent DeMarcus Cousins.
Then, Boogie caught meningitis, and coach Mike Malone got fired for exercising a style of basketball that won games, but it wasn't exciting enough for the giddy ownership or finicky front office.
And soon, the promising start to a new Kings era became a few more gallons of gasoline and full dump trucks to add to the fetid, unending garbage fire that is the professional basketball franchise in Sacramento.
To replace Malone, the team hired Ty Corbin, who had just been fired by the Utah Jazz for being generally awful. The offense congealed, resulting in the Medusa-esque, far-too-frequent sight of Rudy Gay hoisting contested mid-range jumpers late in the shot clock.
The defense that had been swinging on Malone's tight string sagged, stretched and broke, resulting in sulky faces and pointed fingers.
Demarcus would return and make his first All-Star team, but the talent-depleted Kings failed to form anything resembling a competent squad. They tumbled down the standings, and it appeared the nightmarish merry-go-round wouldn't ever stop, no matter how much its passengers vomited.
But then, a crisp breeze of sound decision-making cut through the stale, losing air when the front office booted Corbin for the repeatedly successful, albeit crotchety, George Karl.
Karl is the first Sacramento coach since Rick Adelman to inspire anything but a confused shrug from the collective fanbase. It is legitimately exciting to have a proven winner willing to try his hand at salvation.
The Karl hiring would be shortly overshadowed by the replacement of promising first-time GM Pete D'Alessandro for the infinitely charismatic Serbian superhero, Vlade Divac.
D'Alessandro had developed a "difficult to work with" reputation, but the firing reinforced the swirling narratives of incompetency as it mirrored owner Vivek Ranadivé's very first mistake.
When the tiny tech tycoon first purchased the team, he hired Mike Malone before D'Alessandro, a move questioned by everyone, including the two men.
This unjustifiably unorthodox approach led to dueling factions of basketball thinking that sabotaged the team and led to Malone's strangely speedy firing.
It was a first-time blunder the league was willing to forgive, until Ranadivé did the exact same thing and hired Karl before Divac. The decision has led to similar disagreements.
Karl put Cousins on the trading block, even after the front office and ownership draped a massive "Not For Sale" sign on the singular big man. Then, Divac put his foot down and Karl went on a vacation. The team drafted a springy and wiry defensive stud, Willie "Trill" Cauley-Stein.
It was a rare, wise decision from a franchise that once thought making a draft-day trade to gain Jimmer Fredette and John Salmons was a good idea.
Next, Divac got tricky. He sloughed off the burdensome contracts and mediocre talents of Carl Landry and the former longest-tenured King, Jason Thompson, to the 76ers. But, the move cost the potentially high price of Nik Stauskas for two pick swaps and a top-10 protected pick.
The decision was blasted as reckless dumping without a solid next step. But, Thompson and Landry were slimy globs clogging up their front court, and the best thing Stauskas did last season was get his name misspelled by closed captioning.
The pick swaps bank on the belief the Kings will be better than the 76ers. And the protected pick means the Kings keep it if it lands in the top 10. If they're outside of that range, hopefully they've turned a corner and won't be desperate for a late lottery selection.
At the time, the trade looked terrible. Then, it looked worse after Wesley Matthews and Monta Ellis decided against taking more money than anyone else, which Sacramento was offering them, to join other teams.
But, in the last few days, the Kings have inked sharp-shooting former champion Marco Belinelli, genius enigma Rajon Rondo and crafty, dependable big man Kosta Koufos, who played well under coach Karl in Denver, even getting minutes over the now crucial Timofey Mozgov.
Belinelli and Koufos are solid signings to bolster the paper-mache bench support of last season. And the obvious make-or-break player is Rondo, who is committed only to next season for $9.5 million, a price that would have seemed like a steal only a year ago.
Rondo is notorious for clashing with coaches who try to command him too much, for the simple reason he thinks he knows better than they do. But, the Kings were the only team to even meet with the ornery point guard after his "Real World"-esque exit from the Dallas Mavericks last season.
If Rondo pouts, rages or mails it in, this will be the last contract he ever signs in America. He has plenty of incentive to be the player that shamelessly draped himself over Lebron James to gain even the slightest advantage.
Whether or not Rondo actually can play at the level that made him an All-Star and a post-season dynamo is another question, but his effort and engagement is the deciding factor between the Kings sniffing the forgotten scent of a playoff slot or sinking back into the soiled couch in the cellar of the Pacific Division.
It's an understatement to say Divac took some risks this offseason. But, his moves took balls big enough for a wheelbarrow, a radical departure from the Maloof family era.
When the economy crashed, the Maloofs treated the Kings like an ATM, drafting marketing dreams and signing underwhelming free agents who were sold to fans as saviors.
This is the team that gave Chuck Hayes $22 million and made him captain of the team after he failed his physical.
For nearly a decade, the Kings weren't only bad, but they were also hopeless. They didn't have enough talent, and they didn't have owners willing to spend to get that talent. A fan couldn't even have delusions of competing at the highest level.
This season, they swapped two proven duds and a potential dud for a former star who helped lead a team to a championship and two players who have shown game-changing skills for extended periods of their career.
The path to those signings spat in the face of free agency history, but the result is an undeniably more talented team than a year ago.
The Kings are a hot mess. Their scheme could implode three days into next season. Rondo and Karl might stop speaking after a game of Connect Four.
Demarcus might rip the padding off the stanchions and wallop Gay after his third fallaway clank of the game. Ranadivé might demand they start playing 4-on-5 to allow a cherry picker. A meteor might decimate construction of the new arena.
But right now, on paper, the Kings don't look terrible. They have a young, imposing front court, a rangy, versatile fleet of wings and two starting-caliber point guards. Heck, Gay is drunk Snapchatting at clubs with Josh Smith.
If J Smoove got added to the already-simmering melting pot of stubborn stars, the Kings would become everyone's League Pass guilty pleasure.
At worst, they'll be the most entertaining medley of mismatched talent in the league, and at best, they'll be a potential dark horse for the playoffs if everything breaks their way. And that's a massive "if."
I fully expect the shaky scaffolding to collapse. I have to. It's the Sacramento Kings. Rooting for this team has been an exercise in humiliation for the entirety of my formative years.
And yet, I can't help but feel a little different. Instead of unabashedly trying to squeeze every penny out of this franchise, the powers are putting loads of house money on purple and black and hoping the uncaring NBA roulette finally stops in our favor.
Ultimately, they didn't have a choice. Cousins is the only superstar who will be stopping in Sacramento for the foreseeable future. They have to make this a desirable home for him, lest they squander their only shot at championship contention. They have no time to waste, and these risks were necessary.
It may not work, but a long shot is better than no shot.