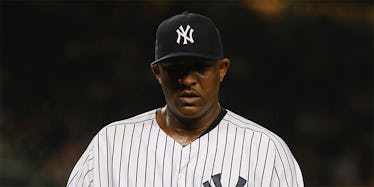 CC Sabathia Should Be Treated As A Human, Not As A Baseball Player
Getty Images
On the eve of the Yankees' first playoff appearance since 2012, news broke that the Bronx Bombers would have to chase their 28th World Series without one of their veteran leaders, starting pitcher CC Sabathia.
Sadly, the circumstances of this unexpected leave of absence truly took the world of sports by surprise.
Carsten Charles Sabathia issued an emotional statement Monday afternoon, announcing he would miss the Yankees 2015 playoff run in order to seek professional help, to combat his struggles with alcohol.
Below is Sabathia's complete statement, released by the New York Yankees:
Today, I am checking myself into an alcohol rehabilitation center to receive the professional care and assistance needed to treat my disease. I love baseball and I love my teammates like brothers, and I am also fully aware I am leaving at a time when we should all be coming together for one last push toward the World Series. It hurts me deeply to do this now, but I owe it to myself and to my family to get myself right. I want to take control of my disease, and I want to be a better man, father and player. I want to thank the New York Yankees organization for their encouragement and understanding. Their support gives me great strength and has allowed me to move forward with this decision with a clear mind. As difficult as this decision is to share publicly, I don't want to run and hide. But for now, please respect my family's need for privacy, as we work through this challenge together. Being an adult means being accountable. Being a baseball player means others look up to you. I want my kids -- and others who may have become fans of mine over the years -- to know I am not too big of a man to ask for help. I want to hold my head up high, have a full heart and be the type of person again that I can be proud of. And that's exactly what I am going to do. I am looking forward to being out on the field with my team next season, playing the game that brings me so much happiness.
Having been a Yankees fan my entire 20 years of existence, this truly brings me heartache.
It's easy to be a jackass of a fan and complain about how the timing of this will only diminish the already-slim chances the Yankees have of making it to the World Series.
But the fact of the matter is, it takes a fan with a heart (maybe even a brain) to understand that, at a moment like this, it is okay the playoff race is the last thing on our beloved CC's mind.
Yes, he has a five-year, $122 million contract, the 2009 World Series ring and the ability to throw a baseball harder than any of us can. But in the end, CC Sabathia is the same as you and me.
He's human.
As fans of these gifted athletes, we all know we would do anything to take a simple picture with our favorite players. We love them, worship them and look up to them.
So why kick them the moment they realize they have tripped and fallen? Shouldn't we praise them for having the courage to realize what truly is important, even if it will disappoint their fans?
The time to embrace CC more than ever before is now. He has meant so much to an organization that has seen their heydays slowly fade away. He is our leader, our workhorse and our guy.
Get better, CC. We love you, big guy.