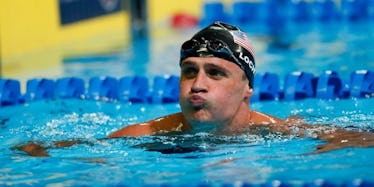 It Looks Like The Gross Olympic Pool Turned Ryan Lochte's Silver Hair Green
USA TODAY Sports
Prior to the start of the 2016 Summer Olympics in Rio, US swimmer Ryan Lochte decided to switch things up and dye his hair silver-gray.
I know he called it light blue in the above Instagram post, but even Stevie Wonder knew that shit was gray.
Anyway, it appears Lochte has yet again changed his hair color. Only this time, it wasn't his choice.
Recently, one of the Olympic pools in Rio turned green, though we're not exactly sure why.
Perhaps it has something to do with the chlorine, which may have played a part in turning Ryan Lochte's hair green.
One of the best parts about Lochte's recent Instagram post has to be the fact he doesn't even acknowledge the fact his hair has gone from gray to green. In his caption, he shouts out Polo Ralph Lauren and adds #USA, #RioeJainero and #Olympics.
Like, bruh, do you even realize your hair now matches the garbage can in the background of this picture you just posted?
Now that I think about it, you can actually look at those two side-by-side garbage cans as the before and after for Ryan Lochte's hair color. I know, genius.
Get it together, Lochte.
Citations: Poor Ryan Lochte Didn't Realize the Chlorine Would Turn His Gray Dye Job Green (New York magazine)