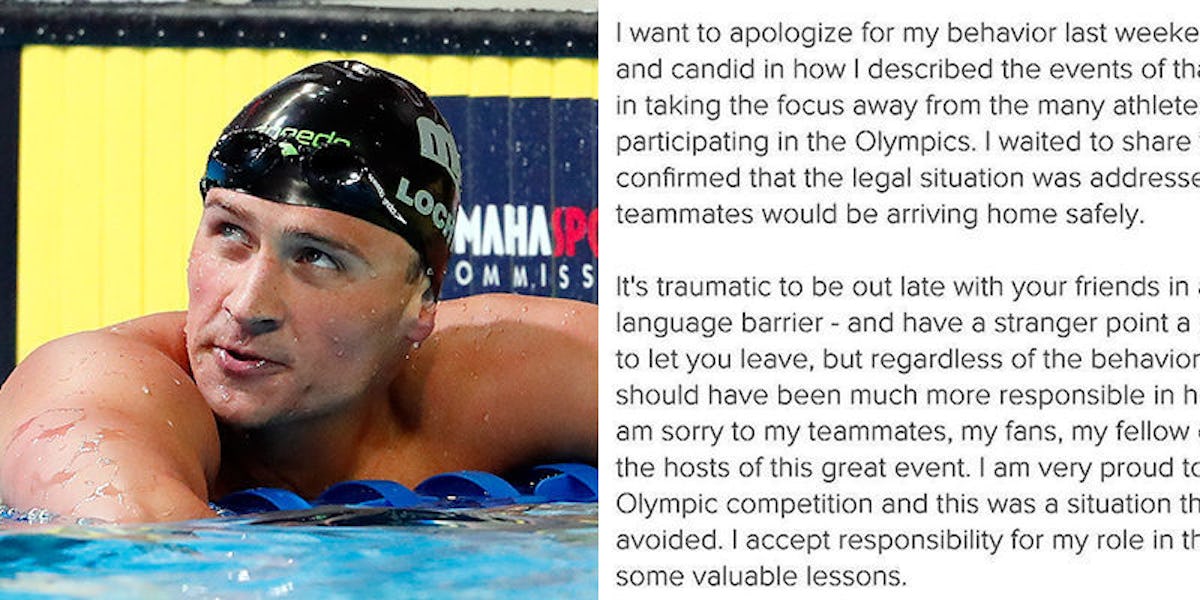 Ryan Lochte Posts Bizarre Apology: It's 'Traumatic To Be Out Late' In Brazil
USA Today Sports/Ryan Lochte
The Ryan Lochte saga may be nearing its end.
On Friday morning, the 32-year-old swimmer posted a letter on his social media accounts apologizing for his "behavior," which resulted in an international legal battle and plenty of controversy.
The most important passage in the letter seems clear.
In the second paragraph, the swimmer seemingly attempts to explain himself and apologize for how he responded all at once.
It's traumatic to be out late with your friends in a foreign country - with a language barrier - and have a stranger point a gun at you and demand money to let you leave, but regardless of the behavior of anyone else that night, I should have been much more responsible in how I handled myself and for that am sorry to my teammates, my fans, my fellow competitors, my sponsors, and the hosts of this great event.
Lochte's apology comes five days after he made claims that he and three teammates were pulled over and robbed by men posing as police officers in Rio.
According to statements by Brazilian police on Thursday, however, it seems the swimmers had not been robbed. Instead, there were involved in damaging property at a gas station and were prevented from leaving by security officers with firearms, before settling the dispute with a payment of $50.
It's still unclear, however, whether Lochte will face legal trouble. But one thing is clear, by his own admission: he lied.