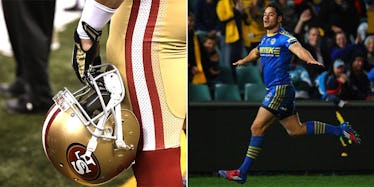 How Rugby Has Perfectly Prepared Australian Star Jarryd Hayne For The NFL
Instagram/Facebook
For those of you who haven't heard of Jarryd Hayne, he's an Australian rugby star who decided to leave behind fame and fortune in order to pursue a career in the NFL.
After making the announcement a few months ago, Hayne was finally picked up by the 49ers.
2014 National Rugby Player of the Year @jarrydhayne_1 has signed a contract with the 49ers -> http://t.co/otyRhNK8rV pic.twitter.com/4n0A2YDjAu — NFL on ESPN (@ESPNNFL) March 3, 2015
The transition from the rugby league (a popular variation of rugby played in Australia) to (American) football has never been made before. However, Hayne is hoping to be a trailblazer for other players looking to do the same.
Hayden Smith, another former rugby league player, attempted to make the transition in 2012, but was not as successful as he hoped. Hayne will look to make possible what Smith couldn't.
Hayne, 27, has no football background whatsoever. However, his experience as a rugby player and pure athleticism will allow him to make a successful transition.
The first big plus for Hayne is the fact that he played rugby league, as opposed to rugby union. Rugby league is a variation of rugby that has a closer resemblance to football than the more traditional form of the game (rugby union).
In rugby league, teams are given a certain amount of phases (pretty much equivalent to downs in football) to score. This means teams are more likely to make attempts at big plays and punt the ball away when they're running out of phases.
On top of this, the hits in rugby are pretty electrifying. Hayne is used to playing against some of the biggest athletes in the world.
If you think Ndamukong Suh is a scary man, imagine getting hit by guys like this without any pads or a helmet on.
Hayne has all the tools to make it in the NFL. He's got quick feet, strong legs, great field vision and a mean stiff arm. He can also take hits and lay hits, too. If you don't think this guy is the real deal, just check out his highlight reel above.
The guy is also a great athlete. He's fast, agile and strong. He's 6' 2" and 226 pounds. In his pro day, he ran a 4.53 40-yard dash, which would've been the sixth fastest among running backs at the NFL combine.
This isn't just some Joe Schmo looking to make his big break in the NFL. This is an established star, looking to challenge himself in a new sport.
Kudos must be given to the man for deciding to start playing a completely unfamiliar sport during the middle of a prolific career.
Today a dream becomes a reality. With God anything is POSSIBLE. — jarryd hayne (@jarrydhayne_1) March 2, 2015
Although he has all the tools to make it in the NFL, it doesn't mean the transition will be a smooth one.
He's going to need to learn the sport of football, which will take him time, while everyone else he will be playing with has most likely been around the game for pretty much all of their lives.
It's going to take a lot of time and dedication to get himself caught up mentally with where he needs to be.
However, if he does get there mentally, Hayne has potential to be one the best dual sport athletes America has seen in a while.
Here's to hoping his second sport transition is more like Bo Jackson's and less like Michael Jordan's.