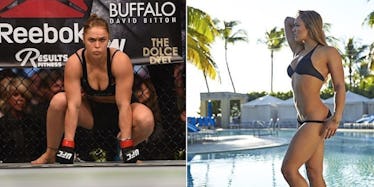 How Ronda Rousey Keeps Her Body In Ridiculous Shape To Be UFC Champ
Ronda Rousey has steamrolled through the UFC's women's bantamweight division to defend her title an unprecedented six times.
But it's not just what she did; it's how she did it, defeating her last three opponents in a combined 64 seconds. She's that damn real.
All great fighters know the results they get in the octagon are only as good as the worst day they put in the gym, and for Ronda, there aren't "bad" days and there's certainly no lack of focus.
Preparation is everything in MMA, and even for a woman who finishes the opposition in seconds, it's her insane workout and diet regimen that keep her at the top of the division.
For a woman who's helping to redefine female body image, making strong a beautiful thing, she's not only defending the title in the for herself but showing the world how tough females can be.
It all starts with the hours she puts in at the gym.
It took Ronda Rousey only 34 seconds to defeat her last opponent at UFC 190 in Brazil.
That's because Ronda is in ridiculous shape, which is evident every time she steps into the ring.
Training with heavy ropes helps strengthen and sculpt her body for fight night.
And exercises with resistance ropes make her hit harder.
Core training is essential to lasting longer in the octagon.
Plus, dropping a medicine ball on to your stomach just makes you tougher.
Of course, live sparring is one of the best workouts for her.
But she'll also incorporate dumbells while looking back at it.
Ronda had an open workout for her fans in Brazil before UFC 190.
She focused heavily on striking, which is how she defeated three out of her last four opponents.
She also practiced grappling and her signature armbar, which is how she beat that fourth opponent.
But she can easily transition into strikes from the ground if she finds the opening.
With her strong judo background, she can get anybody to the floor within seconds.
Just ask this poor reporter who literally asked for it.
Of course, dieting and making weight is very important.
So many people are asking about her "different" physique, but she clearly couldn't care less.
She does this for herself and for a career she loves.
At the end of the day, it's her philosophy and way she approaches her craft that keep her in championship form.
It's the same way she believes other women should approach their dreams and lives in general.