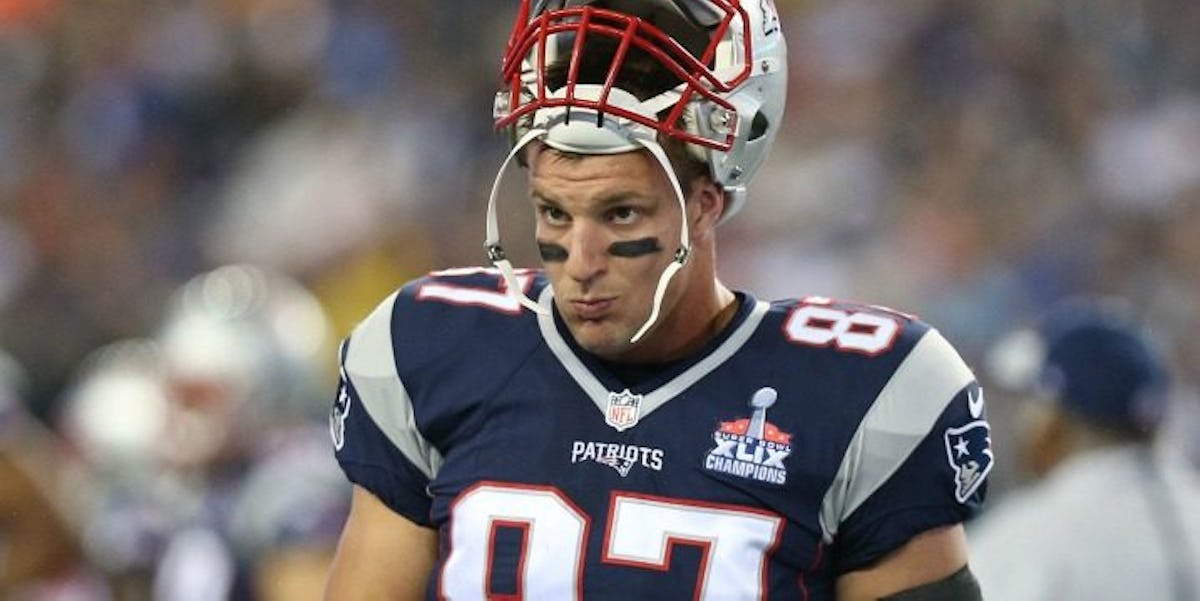 Rob Gronkowski Gets Trolled So Hard In Super Bowl Edition Of 'Mean Tweets'
REX/Shutterstock
We're just a few days away from the New England Patriots squaring off with the Atlanta Falcons in Super Bowl 51 in Houston, Texas.
Thursday night, though, the focus shifted from the football field to the Twitter arena when NFL superstars such as the Patriots' Rob Gronkowski and the Giants' Odell Beckham Jr. joined the set of Jimmy Kimmel for a very special Super Bowl edition of "Mean Tweets."
Yeah, you know where this is going.
First up on the "Mean Tweets" hit list was New York Giants wideout Odell Beckham Jr.
As you can see in the video above, Twitter user @Rahooligan92 had quite a few choice words for OBJ.
Reading this tweet, Beckham said,
Odell Beckham Jr transitioned from an exciting new rookie to an extremely lame looking d**khead in an alarmingly short amount of time.
After OBJ, it was Houston Texans defensive end JJ Watt's turn to shit on himself.
Reading his tweet, Watt said,
JJ Watt kinda looks like a fat @macklemore hahaha
Damn, that's cold. A shred of accuracy, though?
Tennessee Titans running back DeMarco Murray got it really bad from Twitter user @jfigs_12.
As you can hear in the video above, Murray said,
I have a deep and sincere hatred for Demarco Murray. I hope he chokes on a d**k
I think we can all agree Twitter has zero chill, right?
Retired NFL legend Michael Irvin got his turn to read some nonsense someone wrote about him, as did Cowboys quarterback Tony Romo, but, arguably, it was New England Patriots tight end Rob Gronkowski who got played the most.
Reading Twitter user @Super_Strat's tweet, Gronk said,
Rob Grownkowski is one of the dumbest people in the world. I have no problem tweeting this because he probably can't read it.
Honestly, what's wrong with some of y'all? In any event, Kimmel's "Mean Tweets" segment never disappoints, does it?
Citations: Gronk, Odell Beckham Jr., Tony Romo, And Other NFL Superstars Read 'Mean Tweets' On Jimmy Kimmel (BroBible)