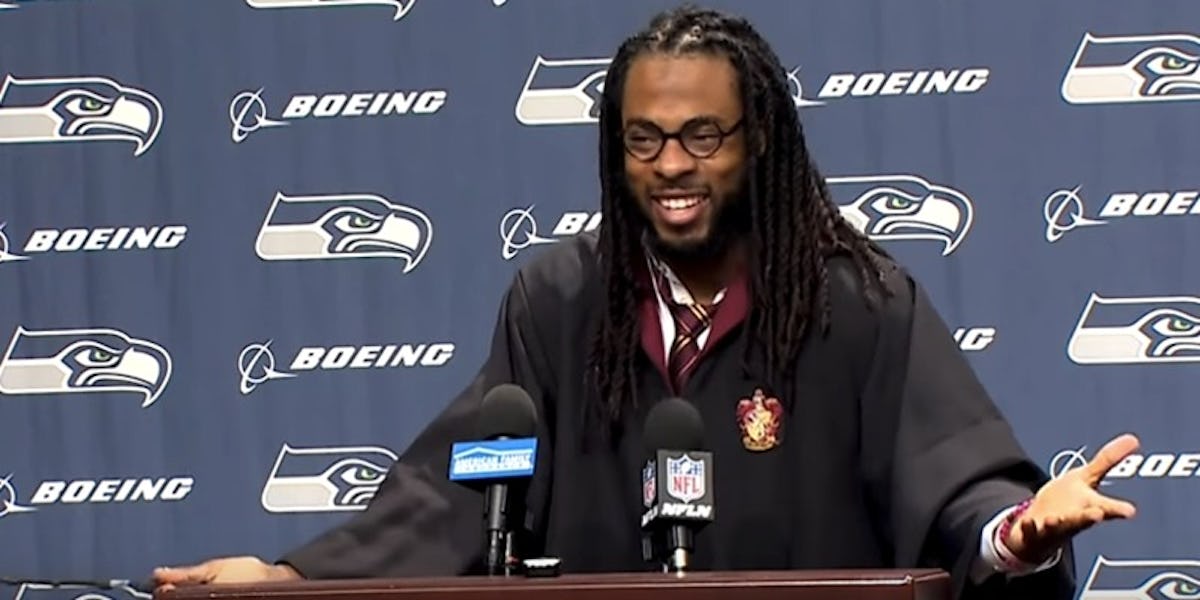 NFL Star Wears Harry Potter Outfit To Press Event Because His Son Said So
YouTube/Associated Press
This is NFL player Richard Sherman.
And this is NFL player Richard Sherman after he's had a Snickers.
Just kidding. The latter is actually Sherman after one of his kids asked him to dress up as Harry Potter. But the difference really is just as drastic as, say, you with cable and you with DirecTV. And Sherman was very committed to the act.
On Wednesday, the Seattle Seahawks cornerback walked up to his press conference podium, Hogwarts theme music and all, and explained,
You've got to bring your own music. This is a serious occasion. It's Halloween. My son told me he wanted me to wear something, so it's happening. It's happening.
Indeed, "it" did happen. The 28-year-old Stanford grad took questions in full Gryffindor garb, and the reports, to their credit, adjusted accordingly.
Sherman was asked the usual batch of game-related questions, but with an appropriate twist.
When asked whether the Seahawks' taxing (and bizarre) overtime game last Sunday was tougher than a Quidditch match, Sherman answered,
Five quarters of football is pretty tough, but Quidditch — the beaters, the chasers, trying to find the golden snitch, things like that — that's tough. Five quarters of football, though, in the elements, I'd say that'd take the cake.
When asked whether he felt human after that long battle with the Cardinals, he said,
Well, I'm definitely a wizard, so if you're asking if I feel like a Muggle again, I don't. But I started feeling better probably around late yesterday, last night, just getting more fluids in me and more energy, legs started getting back under me.
Yeah, I don't know about Sherman being an actual wizard, but it looks like he'll be one again on Monday night when he and his son go out trick-or-treating.
Sherman told reporters,
He's going to have a mask on; I'm going to have this on. Nobody's going to have any idea.
Now all he needs is the scar.
Citations: Seahawks.com