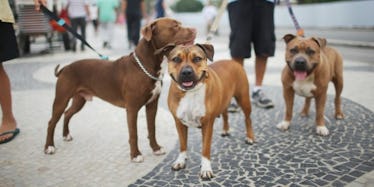 There Is Nothing Cuter Than Rescue Dogs Chasing Balls For Tennis Players
Getty Images
The only thing more awesome than dogs being saved from homelessness and filth is then seeing those rescue pups run around a tennis court chasing balls for players.
That's the exact scene that took place at the recent Brazil Open in São Paulo. Now, you may think it's a bit much to have newly-rescued dogs be put on display in front of the masses, but that was exactly the point.
Andrea Beckert, a trainer with the Association of Animal Wellbeing, told CNN,
We want to show that abandoned dogs can be adopted and trained. After all, it's not easy to get a dog to only pick up the lost balls, and then to give them up!
I don't own a dog, but after spending an hour at my girlfriend's house, I can certainly attest to Beckert's logic.
Hopefully, these cute canines will soon be chasing balls in the backyards of loving homes, rather than the clay tennis courts of São Paulo.
Citations: Watch adorable rescue dogs work as ball boys for a tennis match (For The Win)