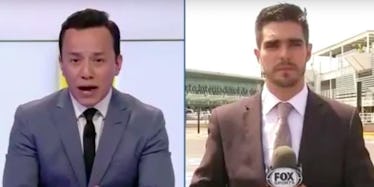 Sports Reporter Has Worst Day Ever When He's Hit By A Car On Live TV (Video)
In today's WTF news, a reporter for FOX Sports was recently hit by a car outside of Guadalajara International Airport in Mexico while he was doing a live broadcast about a soccer match.
David Medrano Mora was just trying to give a post-match recap of Chivas' 2-1 victory over Club América when he noticed a car coming right at him.
You can see in the video above, Mora catches a glimpse of the reversing vehicle but can't react quickly enough to get out of the way.
According to reports, Mora wasn't seriously hurt as a result of getting hit, though the blow was clearly enough to knock him off screen.
Protect your necks, kids -- and your legs, knees and ankles.
Citations: Fox Sports' Reporter Hit By Car On Live Broadcast, But He's Fine (Huffington Post)