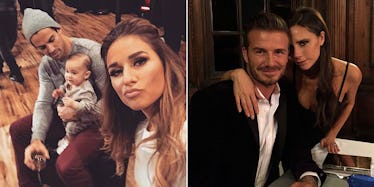 Relationship Goals: A Look At The Sporting World's Strongest Couples
Facebook
The media can portray professional athletes as less-than-perfect guys, but this is a stigma made from a few cheaters, liars and various failed relationships. This image isn't a fair representation.
In fact, there are tons of great examples of happy and healthy marriages held by professional athletes.
To prove it, here are the best relationships in the sports world today. We wish these couples a happy Valentine's Day and also commend them for being an example of the type of relationship we all strive to have one day.
Eric Decker & Jessie James
Married on June 22, 2013, football wide receiver Eric Decker and country pop star Jessie James tied the knot in a picture perfect wedding. The two welcomed their first child on March 18, and they named the baby girl Vivianne Rose.
This duo has been crowned not only one of the best looking couples, but also one of the biggest power couples in the sports world.
Decker is a successful NFL player and James has a successful music career. The two now even have their own reality TV show.
David & Victoria Beckham
These two are the picture perfect love story we all want, and one of the best known celebrity couples out there.
Both of these extremely talented and good-looking individuals also are always showing constant love and support for one another.
The pair is often photographed holding hands and being out with their adorable three sons -- Brooklyn, Romeo, Cruz -- and beautiful little girl, Harper.
Posh Spice and this soccer stud not only look good together, but also work well together. They show us all that although relationships take a lot of work, they're worth it.
Nomar Garciaparra & Mia Hamm
Both retired professional athletes, Normar Garciapara and Mia Hamm have set the bar high and been happily married since 2003. The couple had twin girls, Garce and Ava, in 2007 and a son, Garrett, who they welcomed to the family in 2012.
Both were Olympic athletes for their respective sports, and put as much effort into their careers as they do their relationship.
They show the world that once you find someone who understands you, it's easy to keep a relationship healthy for years.
Jennie Finch & Casey Daigle
This is the baseball-filled fairytale of how an Olympic softball pitcher and a well-known MLBA pitcher met and fell in love.
Daigle proposed to Finch on the pitcher's mound at University of Arizona, her alma mater, and according to Finch, "He blindfolded [her] and took [her] to the mound and said, 'You have been the queen of the diamond for four years. Now I want you to be the queen of my heart.'"
The two wed on January 15, 2005 and have two sons: Ace, born in 2006, and Diesel, born in 2011. They also recently welcomed a baby girl into the family. Their daughter, Paisley, was born in 2013.
These two sweethearts are known for living by their faith and always wanting to not only set an example for their children, but also for their fans.
Sanya Richards & Aaron Ross
Richards, a Jamaican American track and field Olympian, met and started dating football cornerback Aaron Ross while both were attending University of Texas in 2003.
The two met during Richards' freshman year and have been in love ever since.
The happy couple married on February 26, 2010 and their wedding was featured on an episode of "Platinum Weddings."
These two are extremely passionate about their sports and each other. They are each other's biggest fans and show us all that relationships are all about supporting each other's dreams.