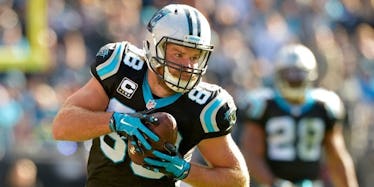 5 Names You Need To Know Before Super Bowl 50 Kicks Off
Getty Images
Super Bowl 50 pits old versus new.
The experienced veteran in Peyton Manning takes on the young phenom in Cam Newton.
However, there are so many other players that will play key roles in the battle for the Lombardi trophy in Super Bowl 50, besides the two star quarterbacks.
Here are five names that you must be on the lookout for, besides the superstar quarterback, before the showdown at Levi's Stadium:
1. Luke Kuechly
We've all heard of Josh Norman and his strong defensive play, but Kuechly's quiet dominance in the linebacker position is just as important.
A versatile player, Kuechly shuts down offenses by covering more than half the open field in a show of pure athleticism.
With only four interceptions during the regular season, Kuechly has already recorded two interceptions, both returned for touchdowns, in the past two playoff games.
He has a knack for reading quarterbacks, and him matching up against some of the best receivers in the game will be something to watch during Super Bowl 50.
2. DeMarcus Ware
Last week, it was all about Von Miller.
But behind that spotlight was Ware, who played a huge role in keeping Tom Brady contained in the Broncos' big AFC Championship victory over the New England Patriots.
In his 11th season, it is his time for Ware to get his own ring, so he is a near-guarantee to go all out in his efforts against a high-powered Carolina offense.
Starting both playoff games after missing some time during the season, Ware logged 1.5 sacks and three assists.
Ware will be one of the key players to keep a dangerous Cam Newton in the pocket, which will be key to a Broncos' victory.
3. Greg Olsen
How can we make a list without including the biggest target for Newton this season?
Olsen has made himself into a prime receiver in both the short and the deep game, as well as a team leader.
At 30 years old, the tight end has had a career year in terms of yardage and touchdowns. Olsen made his presence known last week against a tough Cardinals defense, recording 113 yards on six receptions.
Olsen is one of the most entertaining players because of his unpredictability on the field. Whether he's working deep cuts or short passes, Olsen against the Denver defense will be a treat to watch.
4. Demaryius Thomas
Thomas is a prime deep threat for Manning throughout the season, there is no doubt that he will be up against Carolina's toughest cornerback, Josh Norman.
However, that matchup is what makes Thomas one to watch.
Thomas' speed and agility on the field is something that will play a huge role in the Broncos' offense.
If Peyton Manning stays healthy heading into San Francisco, Thomas will be a tough threat for a strong Panthers defense.
5. Ted Ginn, Jr.
Let me explain: Ginn, Jr. will be a receiver against a top defense, whose primary focus is keeping Cam Newton in the pocket.
So what will that mean? He will likely face single coverage downfield, giving more opportunities to do what he does best.
Ginn, Jr. will use his speed to try and tear up the field and create long gains for Newton and the Panthers.
With so many storylines to look forward to during this Super Bowl, it will certainly be one you won't want to miss.
Will Peyton Manning go out on top? Will youth prevail over experience? Find out February 7.
Here comes Super Bowl 50.