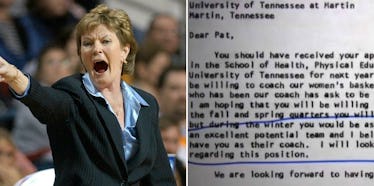 Here's The Original Letter Pat Summitt Received To Coach At Tennessee
Tuesday, June 28, legendary University of Tennessee women's basketball coach Pat Summitt died at the age of 64.
Summitt, who won more Division 1 basketball games than any other coach, male or female, was diagnosed with early-onset Alzheimer's five years ago.
In addition to winning a record 1,098 games, Pat Summitt led the Tennessee Volunteers to eight national titles. She was revered on the court, by her own players as well as her opposing coaches.
She had piercing blue eyes that communicated better than most can orally. She put women's sports on the map and secured female athletes and coaches a seat at the table.
Summitt also recognized a champion when she saw one, and it's unbelievably telling her last tweet was a tribute to the late Muhammad Ali.
Pat Summitt's influence and impact will live on long after today, and perhaps that's her greatest gift of all.
Now, young girls know it's normal to pick up a basketball and try to get a college scholarship and play in the WNBA. In the future, hopefully they'll remember Pat Summitt is a big reason why.
Speaking on Summitt's death, her son, Tyler, reportedly said,
Even though it's incredibly difficult to come to terms that she is no longer with us, we can all find peace in knowing she no longer carries the heavy burden of this disease.
He continued,
She'll be remembered as the all-time winningest D-1 basketball coach in NCAA history, but she was more than a coach to so many -- she was a hero and a mentor, especially to me, her family, her friends, her Tennessee Lady Volunteer staff and the 161 Lady Vol student-athletes she coached during her 38-year tenure.
That 38-year coaching run at Tennessee began in 1974, with a 22-year-old Summitt coaching players who were almost older than her. This is the original offer letter Summitt received from UT to coach the women's basketball team.
Rest in peace, Pat. You were truly one of the greatest to rule the sports world.
Citations: SI Vault (Twitter), Pat Summitt, legendary women's basketball coach, dies at 64 (CNN)