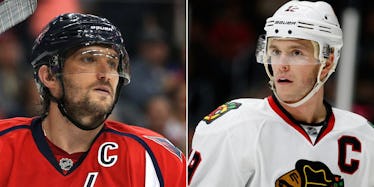 Why Athletes Who Opt Out Of The All-Star Game Are Insulting Their Fans
Getty Images
All-Star games are a sport's way of celebrating the fans. Plain and simple.
A lot of fans trivialize All-Star games and think there's no point to them because they don't actually count toward the standings or any player's personal stats -- and that's fine. It's the fans' prerogative to disregard the game. They can take it or leave it.
But an athlete's trivializing of the All-Star game -- or worse, opting out of participating -- is a slap in the face to the fans, without whom athletes and the sports they play would have no purpose or value.
Today, it was announced that Washington Capitals Alex Ovechkin and Chicago Blackhawks Jonathan Toews, two elite NHL players and captains of their respective franchises, were opting out of the NHL All-Star game this weekend.
Ovechkin is reportedly dealing with a lower-body injury that had been lingering since November -- not severe enough to keep him on the bench and stop him from posting his 500th goal, but too much for him to participate in a low-intensity All-Star game.
And Toews will be sidelined for the event due to an illness that caused him to leave the game early last Tuesday.
Now, this isn't the first time hockey stars have been mysteriously plagued with injuries prior to the NHL All-Star game. Last year, Pittsburgh Penguins elite duo Sidney Crosby and Evgeni Malkin were absent from the All-Star game with, wouldn't you know it, matching lower-body injuries.
In 2009, Detroit Red Wings Pavel Datsyuk and the now-retired-great Niklas Lidstrom skipped the game, Datsyuk with a sore hip flexor -- aka, lower-body injury -- and Lidstrom with a sore elbow (OK, that's officially an "upper-body injury").
In fact, the occurrence has become so common that the NHL implemented a one-game ban as a penalty to any players on the NHL All-Star game roster "unable" to participate, a ban that Toews and Ovechkin won't be able to lower-body-injury their way out of.
Now, in a more understandable case, 43-year-old Florida Panthers forward Jaromir Jagr, living hockey legend and natural scorer -- on and off the ice -- has expressed his dismay in participating in this weekend's All-Star game.
The oldest player in the league tweeted -- jokingly, but not really -- to his fans that the new three-on-three format of the game would "kill" him:
Fans-I appreciate your votes for All-Star game, but 3 on 3 would kill me,and i don't want to die yet:)Thank you for understanding. Too old:) — Jaromir Jagr (@68Jagr) December 2, 2015
Despite his campaign to avoid playing, fans voted Jagr-bomb into the All-Star game, and despite his age and public disinterest, he doesn't look like he'll be backing out.
Why won't Jagr back out? Because having played more years of hockey than I've spent alive on this earth, Jagr has realized how important the fans are to hockey and how much his presence in that game would mean to hockey lovers all over the world.
Another controversial All-Star admission who has expressed mixed feelings about participating is Phoenix Coyotes John Scott.
Scott's case is very unique as he was voted into the game by the fans but sports a very unimpressive hockey resume compared to his peers. With only five goals and six assists in his entire 285-game career -- a tally Ovechkin could reach in a month -- many have argued over whether or not Scott "deserves" to participate, and whether or not he was sincerely voted in by the fans or voted in out of jest.
Regardless, Scott has vehemently fought for his right to participate:
If the league thought this was an embarrassment, pretty much all of the players I've encountered have thought otherwise. I've gotten texts from so many guys saying the same thing: 'You should go.'
And those players, along with Scott, are right. Scott should go because it doesn't matter why; the fans want him to. And as I've said before, the All-Star game is for the fans.
Even Jagr, himself, has jokingly expressed his excitement in playing in the All-Star game with Scott:
Fans-I was afraid,that 3on3 all-Star game may kill me,now,I am more afraid,fighting John Scott 6,8 300 during All-Star, kill me for sure — Jaromir Jagr (@68Jagr) January 2, 2016
Sports are what the fans make them. It's they're hard-earned money that drives the outrageous salaries of athletes. It's a week's worth of their bi-monthly paycheck going toward taking their sons and daughters to a game that they, themselves, grew up with and bonded with THEIR parents over that make sports on a worldwide stage possible.
All-Star games are a way for leagues to thank loyal fans by putting all of their favorite players on the ice, or the court, or the field at one time. And athletes who can't see the importance in participating are shameful to the game and a disgrace to their fans who adore them.