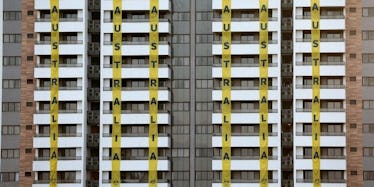 Rio's Mayor Just Threw Shade At Australia's Olympic Team — With A Kangaroo
REUTERS
Team Australia has the honorable distinction of being the first nation to publicly criticize Olympic host Rio for what they're calling "uninhabitable" conditions in the athletes' village.
The mayor of Rio, though? Well, he's not sweating the accusations made by the Australian Olympic Committee. Instead, he's cracking jokes. Speaking on the Aussies' claims, Mayor Eduardo Paes reportedly said,
I almost feel like putting a kangaroo in front of their building to make them feel at home.
Got 'em!
However, this is no laughing matter — for us. Several nations' Olympic teams have reportedly complained about electrical and plumbing problems in Rio's Olympic village, but only Australia is reportedly refusing to move into their designated buildings.
The head of the Australian delegation, Kitty Chiller, told reporters about Australia's decision not to move into the dorms, citing safety and health concerns.
As far as Paes's kangaroo joke, it appears the Australian Olympic Committee is less than pleased. Spokesman Mike Tancred responded to the Rio mayor's joke, reportedly saying,
We do not need kangaroos, we need plumbers to account for the many puddles found in the apartments.
I mean, it's kind of hard to argue with that logic. As more nations arrive at the Olympics this week, I also suspect this won't be the last we hear about the conditions in Rio, in the athletes' village and beyond.
Citations: Rio mayor cracks kangaroo joke after 'unliveable' Olympic village complaint (Mashable)