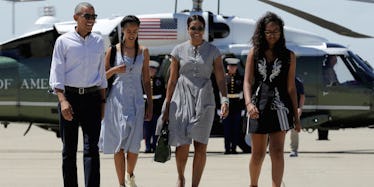 Obama Held Up Air Force One For Almost 20 Minutes To Do The Funniest Thing
REUTERS
President Barack Obama spent an extra 18 minutes sitting on his plane after it landed for one very important reason: The NBA championship game hadn't ended yet.
Just like the rest of us, Obama was riveted by Game 7 between the Cleveland Cavaliers and Golden State Warriors. The game was thrilling with the teams staying within a few points of each other.
Anyone who cares even a little about basketball had to watch till the very end when Cleveland pulled ahead for the win by just four points. Cleveland got their first sports champions in 50 years, and LeBron James was unanimously named Finals MVP.
Even if you're not a Cavs fan, you've gotta admit this series was a win for all sports fans for being such an exciting show of athleticism. (Yes, we're looking at you, super boring Super Bowl.)
And Obama has long been acknowledged a big basketball fan. He regularly plays and makes his March Madness picks every year.
Obama even had Steph Curry in the White House this spring to talk about mentorship — and give Curry some pointers.
So it makes sense that when it came to the NBA Finals, Obama had to see it through to the end.
The president, along with Michelle, Sasha and Malia, stayed on board Air Force One until the game was over. The plane touched down and the White House press pool was left waiting for the Obama family to step out.
The Obamas stepped off once the game had ended.
The White House confirmed that they were indeed staying on the plane to see the end of the game.
After the game ended, President Obama tweeted his congratulations to Cleveland and LeBron.
Not a bad way for James to end a seriously historic season. Must feel pretty good to know even the president couldn't stop watching.