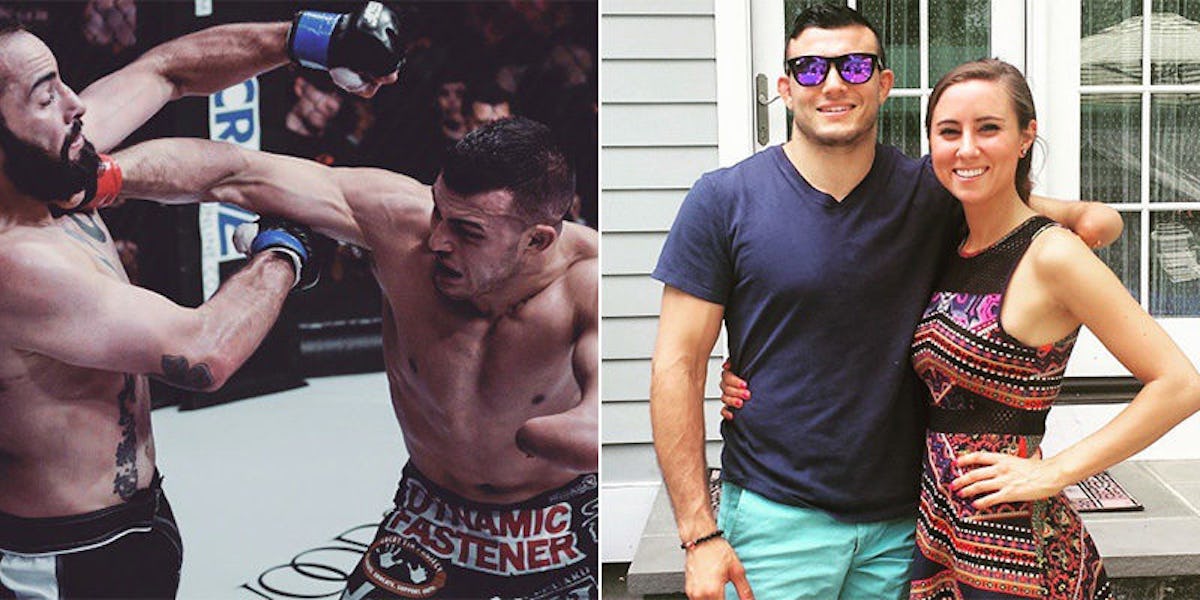 This One-Armed Pro MMA Fighter Continues To Be The Ultimate Inspiration (Photos)
Tomorrow night at Foxwoods Resort Casino in Connecticut, MMA fighter Nick Newell will square off against Tom Marcellino in a much-anticipated lightweight clash.
On paper, this appears to be just another fight in one of the fastest-growing sports in the United States, but it's anything but.
Nick Newell, 29, is 12-1 in his MMA career. He paved the way for a successful pro run by wrestling in high school and college and is considered one of the best wrestlers to ever come out of Connecticut.
What makes Nick's story unique, though, is the fact he's able to compete at the highest level of a physically demanding sport despite having only one full arm.
Newell was born a congenital amputee, but he hasn't let that deter him in his quest for glory.
From dominating the high school and collegiate wrestling ranks to becoming a lightweight world champion, here's how Nick Newell keeps silencing the doubters and achieving success.
Nick Newell was born a congenital amputee, but he quickly learned how to thrive in spite of his disability.
He soon discovered he had real passion and immense skill for fighting.
Newell went on to wrestle throughout high school and college, collecting over 300 victories.
After college, in 2011, Newell and a friend attended an open tryout for the Xtreme Fighting Championships.
Abimael Mestre won the competition, but after he passed away in a motorcycle accident, Newell took his spot in the XFC.
Newell won his XFC debut fight and in 2012, he conquered the XFC Lightweight Championship.
Newell suffered his first professional defeat in 2013, shortly after he signed with the World Series of Fighting...
...but he worked his butt off to return to the ring and avenge that loss.
In February of 2015, the 29-year-old signed a new four-year deal with WSOF, proving hard work really does pay off in the end.
Two months later, Nick Newell defeated Joe Condon in his home state of Connecticut.
Now, Nick gets to chill with badass dudes like Danny Trejo...
...and talk to his hero, Jim Abbot, via a live appearance on the "Dan Patrick Show." https://instagram.com/p/8yGMwonbfE/embed/
The Milford, Connecticut native also has a pretty fly girlfriend...
...and he does the same basic sh*t as the rest of us.
In addition to fighting in the WSOF, Newell is teaching young kids with physical disabilities the value of self-confidence...
...and at WSOF 24, in his home state of Connecticut, Nick Newell will continue to show the world what it means to work hard and believe in your dreams.
Citations: MMA fighter Nick Newell is the best athlete you've never heard of (Sports Illustrated), notoriousnewell (Instagram)