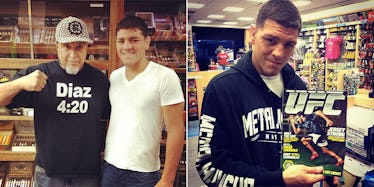 The Nick Diaz Ban Isn't The UFC's Fault But It's Now Their Biggest Problem
Instagram
As a UFC enthusiast, I am beyond enraged by the recent five-year ban and $165,000 fine given to Nick Diaz from the irrational Nevada State Athletic Commission.
This punishment is all due to recreational marijuana smoking practices after major competition.
Unlike Anderson Silva, Wanderlei Silva and many others who have tested positive for illegal drugs, Diaz never ran from taking a drug test (knowing full well he would most likely fail), and he has never been known for taking performance-enhancing remedies.
To the latter claim, Diaz responded,
"That's ridiculous. I've never done steroids in my life. That's another thing I'll tell you. I know all the fighters and they are all on steroids. "All you mother f***ers are on steroids. All you mother f***ers, all of you are on steroids. I already know that. Everybody knows that. I'm the only person in this sport for the most part that ain't on steroids."
I believe Nick Diaz on this assumption.
Maybe I'm just an overly oblivious fan of his, or I can differentiate between an athlete obviously taking steroids and an athlete who is not.
Either way, Diaz has never tested positive for PEDs, only marijuana metabolites. But, he has been given a much loftier penalty than those of Anderson Silva (who received a one-year suspension) and Chael Sonnen (who also received a two-year suspension) for failing drug tests.
If the penalty is not reversed or condensed, Diaz will not be able to compete until the age of 37. So, this five-year ban essentially becomes a "lifetime" ban for Diaz and his fans.
Others share similar frustrations, including current and veteran UFC competitors, and they have rallied alongside Stockton's very own by hashtagging #FreeNickDiaz.
Joe Rogan, UFC commentator and radio personality, went on Twitter to state his opinion:
"NSAC suspending Nick Diaz for 5 years for pot is an irresponsible abuse of power. It's callous, idiotic and sickening."
"Unless there's scientific proof that marijuana is a performance enhancing drug that gives an unfair advantage it should not be restricted."
Chael Sonnen is even selling shirts that say, "DON'T BE A BITCH HOMIE #FREENICKDIAZ."
If we dare to compare to another top UFC athlete's crime, we'll realize Diaz's marijuana recreation is a minor incident.
Remember Jon "Bones" Jones?
Yes, the former UFC Light Heavyweight Champion was caught having traces of cocaine metabolite, known as benzoylecgonine, in his system, but he was not suspended by the very same commission that suspended Nick Diaz.
The reason? Adhering to the World Anti-Doping Agency and its policy, benzoylecgonine is not considered a banned substance or on the "out of competition" list.
It is a conviction like this that makes you wonder why some athletes are more favorable than others.
The Nevada State Athletic Commission certainly wants to make an example of Diaz because of his repeated offenses.
But marijuana should not be a banned substance (and this is coming from a person who doesn't advocate for its legalization). If anything, marijuana is a hindrance to an athlete, due to its side effects that cause a lack of motivation and concentration. It is not a performance-enhancing stimulant.
The punishment given to Nick Diaz shows just how tyrannical the NSAC can be.
The fans lose in this case. Diaz is one of the most exciting fighters in the UFC, and in his prime, Diaz has a lot more to give to an already glorified career.
I believe the commission and WADA need to change its rule concerning cannabis.
It's time to #FreeNickDiaz.