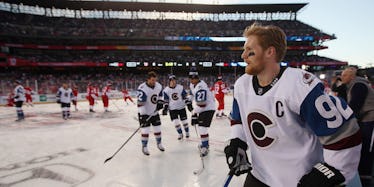 What Your Favorite NHL Team Says About Your Level Of Commitment
Getty Images
In 1917, the world was blessed with the National Hockey League. With over 30 teams spanning between two countries, a new breed of sports fanatics emerged.
Hockey fans are the best types of fans. They're loyal, energetic and quite frankly, a little rowdy.
Their passion for the sport and whatever city they follow is undeniable. Hockey fans have the knowledge to respect the sports history, but the fire to go nuts showing off their pride.
Behind every hockey fanatic is a team they're devoted to. Here is what your favorite NHL team reveals about you and your commitment to the game:
Anaheim Ducks
After so much early success, these fans have kind of lost their excitement. They're still trying to regain their confidence circa "The Mighty Ducks" era.
Arizona Coyotes
They like to be heard. Whether they're ranting at the city hall or at the game, if they have an opinion, they'll make sure people listen.
Boston Bruins
These fans are classic, ideal hockey fans. Both hardworking and loyal, these fans know the value of putting in the effort to achieve greatness.
Buffalo Sabres
Although they had their moments in the past, due to recent years, these fans tend to have trouble letting the glory days go. They're optimistic that better days will come, but it's clear they're living in the past.
Calgary Flames
These fans are either on their A game or falling apart. It's hard for them to find a middle ground because — just like their team — they're either on the way to greatness or blowing opportunity away.
Carolina Hurricanes
Much like Anaheim fans, they are still trying to regain their confidence after earlier incredible seasons.
Chicago Blackhawks
They're extremely hardworking and often get what they want. Just like the Blackhawks, their fans are used to achieving their personal goals.
Columbus Blue Jackets
Clearly still trying to figure things out, these fans are adventurers, always up to try new things and passionate about achieving greatness.
Colorado Avalanche
Despite lacking a strong first impression, these fans will surprise everyone with the passion and knowledge they hide within.
Dallas Stars
Despite seeming out of place sometimes, these fans are confident enough in themselves to never fear leaving their comfort zone.
Detroit Red Wings
Used to being on top, these fans tend to be poor losers. However, if they ever do fall from greatness, they'll fight their way back to the top.
Edmonton Oilers
These fans are always on the right track to succeed, but they tend to cave under pressure and drop the ball. Success taunts them, but they use that as motivation for the future.
Florida Panthers
They're full of energy, but they also lose track easily. These fans are all in one minute, and then they switch gears the next.
Los Angeles Kings
After years of failed attempts, these fans finally got their sh*t together. Success may be new, but they're determined to keep it.
Minnesota Wild
They're not the strongest, but they're definitely the friendliest fans. These people know that sports are all about having fun, and they're always willing to celebrate with new friends.
Montreal Canadiens
Hardworking is an understatement for these fans. These fans know what greatness demands, and they aren't afraid to put the effort into any goal they set.
Nashville Predators
Always in for a surprise, these fans get a thrill from the unexpected.
New Jersey Devils
Loud and proud of their state, these fans can be rowdy, but undeniably loyal to the things they care for most.
New York Islanders
Not afraid of change, these fans understand that sometimes things fall apart so new things can grow.
New York Rangers
They're big city folks. They love the fast-paced action, and they are restless until they achieve all their goals.
Ottawa Senators
Bred for greatness, these fans sometimes feel the pressure to constantly succeed, and they will fall flat due to it.
Philadelphia Flyers
They're a little rough around the edges, but they're always loyal. They're also extremely vocal about their passion, making them unafraid to argue.
Pittsburgh Penguins
Always respecting where they came from, these fans know the importance of hard work.
San Jose Sharks
These fans are all about having fun. They enjoy every moment they can, but they tend to disappear once the good times stop rolling and they're faced with a challenge.
St. Louis Blues
They're sometimes forgettable, but once they get the attention, they will always surprise people with their hidden talents.
Tampa Bay Lightning
New to success, these fans want to enjoy every minute on top they can get. Living in the current moment, they want to celebrate every victory like it's the Stanley Cup.
Toronto Maple Leafs
They appear to be perfect, but they're still lacking something.
Vancouver Canucks
Having trouble letting go of the past, these fans are prideful and hopeful the future will restore their former greatness.
Washington Capitals
They're full of potential, but sometimes they try too hard. These fans have all the tools to achieve, but they will try to get too fancy and lose their focus.
Winnipeg Jets
Still attempting to get it right, these fans are the trial-and-error type people who know their time is coming soon.