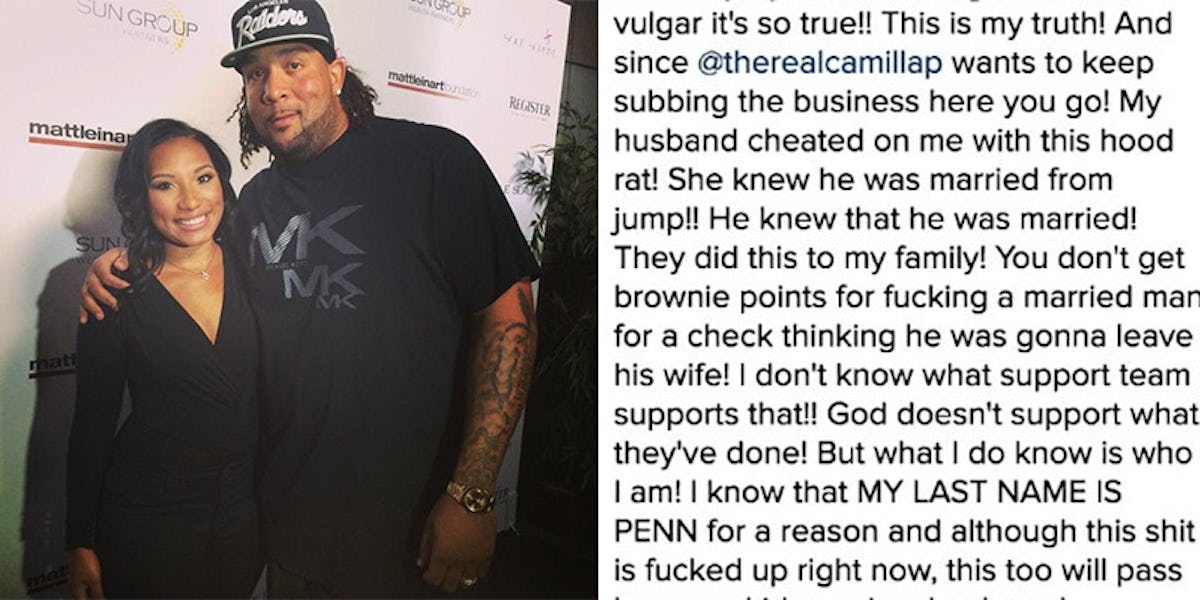 NFL Player's Wife Blasts Pregnant Mistress On Instagram: 'The Wife Always Wins'
Twitter/Dominique Penn
Dominique Penn isn't playing games.
The wife of Oakland Raiders lineman Donald Penn took to Instagram to blast an alleged mistress: reality star Camille Poindexter.
Dominique accused Poindexter (pictured in the Instagram photo above) of knowingly having a relationship and child with a married man. In a loaded Instagram post, Mrs. Penn wrote,
My husband cheated on me with this hood rat! She knew he was married from jump!! He knew that he was married! They did this to my family! You don't get brownie points for fucking a married man for a check thinking he was gonna leave his wife!
Dominique went on to imply that Poindexter was getting paid by Donald to keep the extramarital affair a secret.
However, despite accusing her husband of cheating, Dominique did say that she would stick with the marriage for the sake of her kids.
The wife said,
I know that MY LAST NAME IS PENN for a reason and although this shit is fucked up right now, this too will pass because kids are involved now! Understand that I have all the anger in the world going on, I am that woman that has the power to destroy everyone because I'm the wife and I'm not letting ANYONE take the money that I've earned because she thinks hush money is going to help her life! No ma'am!
Interestingly, Dominique didn't have any harsh words for her husband. In fact, she only had words of support. She reserved her harshest comments for "all you hoes out there."
She also hinted that a paternity test for a child (presumably had between Donald Penn and Poindexter) is pending. Dominique wrote,
In closing, my husband married a strong woman, and even at his weakest points today, I encouraged him to go play today! To protect his quarterback because he has 4 kids now (paternity test pending) to worry about! I uplifted him and I told him as his friend were gonna get through this!!! As a result to all you hoes out there, never think for one second a man will never come crawling back to his wife. In most cases like mine, THE WIFE ALWAYS WINS
Celebrity gossip site Fameolous posted the full transcript of Dominique Penn's rant.
Donald Penn is an NFL veteran of over a decade, while Poindexter has appeared in numerous reality shows, including "Bad Girls Club" and "America's Next Top Model."
Citations: Fameolous