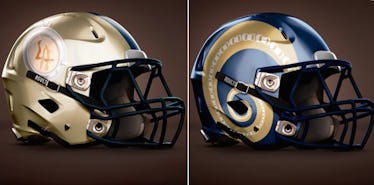 9 New Names That Would Be Perfect For NFL Teams In Los Angeles (Photos)
RSVLTS
Heading into the week, three NFL teams had officially filed paperwork to relocate to Los Angeles.
The San Diego Chargers, Oakland Raiders and St. Louis Rams were all fighting for prime real estate.
In a statement, the Chargers admitted they were "sad to have reached this point" and in a video posted by the team, team President and CEO Dean Spanos called it the "single most difficult decision I've ever made."
We have tried for more than 14 years, through nine separate proposals and seven different mayors, to create a world-class stadium experience for fans in San Diego. Despite these efforts, there is still no certain, actionable solution to the stadium problem. We are sad to have reached this point.
After NFL owners met in Houston on Tuesday to determine which team will take their talents to Los Angeles for the 2016 season, the Rams were granted a move to California.
And while the former St. Louis franchise was the only one to earn the move, both the Chargers and Raiders have not completely ruled out a move to the City of Angels in the future.
Being that three teams are either making or interested in making a move to one of the biggest metropolitan cities in the US, we decided to give these three teams a helping hand in their time of flux and provide some rebranding ideas.
New city, new team, new name, right? Here are a few ideas we came up with we hope the NFL board will take into consideration for renaming purposes.
Out of respect for the teams in the running, we decided to stick to their respective color schemes to make the move a little easier for their current fans and management.
The Los Angeles Jams
This was an easy one.
Los Angeles is filled with traffic jams, which the team will ironically cause more of. So we added a few jammed up cars to the current Rams helmet, spiraling down into the abyss of the devil's assh*le or, as Californians call them, roads.
The LA Free-Range, Grass-Fed Rams
"Farm raised," "pasture raised," "grass-fed" and "organic" are all defining terms every single one of the 19 million residents of the LA area use when discussing animals used for food and clothing, so why not mascots?
"Reese the Ram" will be the new free-range, grass-fed mascot of the Los Angeles Rams.
Even though rams can only be male, we decided to give Reese a gender neutral name because no one should tell Reese who or what he can or cannot be.
The LA 405ers
When most people think about Los Angeles, they think two things: Hollywood and traffic.
And since most fans and players would spend the majority of their day sitting on US 405, why not have their new team honor their new home away from home?
The LA Baristas
You can't take four steps in LA without bumping into an artistically-inclined barista who is only working in a coffee shop until he or she finishes a movie/book/slam poetry collection or lands that big acting/modeling/music contract.
As the new team in town, the NFL can't realistically expect to alienate 50 percent of LA's population and still find success.
The LA Runyon Canyoneers
Ah yes, the fair weather hikers.
In LA, a "hike" is pretty much limited to wearing trendy speed-walking clothes to ascend and descend small hills in order to take selfies outdoors among the beautiful Los Angeles skyline -- not to mention the once-in-a-blue-moon excursion up the Hollywood cliffs to take a picture of the valley below.
If you're moving a team to LA, Lord knows about half your players are going to take up "hiking" -- might as well embrace the stereotype.
The LA Traders
This one is mostly for when Trader Joe's (the unofficial state food store of LA) agrees to sponsor a team.
Plus, no way an entire football organization will be moving to LA without falling victim to the trend of buying nothing except fresh organic food, from their vegetables to their pretzels to their cheese wheels.
The Los Angeles Californians Of Los Angeles
In all honesty, it is well past time an "SNL" sketch got its own team named after it. So why not let the classic Fred Armisen skit finally get its due and help a new NFL team embrace its new home?
We think it's a win-win, really.
The LA Avocados
If there was ever going to be a city that was going to name its NFL teams after the most trendy fruit (vegetable?) in existence, it would be LA.
Plus, really, how could someone not cheer when the Los Angeles Avocados punched in a touchdown.
The Los Angeles Spaders
David Spade pretty much embodies the Hollywood dream.
He's a 5' 5", 135-pound, half-talented blonde man-child who pretty much just makes abysmal movies in order to bang hot actresses and get paid a sinful amount of money for making borderline unwatchable films.
If anyone in Hollywood deserves to have an NFL team namesake, it's David Spade. We hate you... because we ain't you.