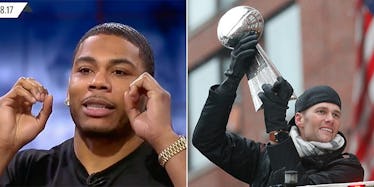 Nelly Gives Perfect Reason Why The Patriots Should Be Allowed To Snub Trump
Twitter/REUTERS
If the New England Patriots decide to turn down an invitation to Trump's White House, we should all blame Tom Brady.
At least that's the stance hip-hop legend Nelly took when he appeared on Fox Sports' debate show, "Undisputed," on Wednesday.
Here's the clip where Nelly argued his case:
nelly gave straight facts and nothing but facts. pic.twitter.com/8PeiIU0IhG — Khairy the Comedian (@OMG_ItsKhairy) February 8, 2017
It's usually tradition for teams who win championships in major sports leagues to honor their success at the White House some time later.
But after a dramatic Super Bowl win on Sunday, four Patriots players have already come out and publicly said they would not attend the White House when the time comes, citing their differences with the current president.
That brings us back to Nelly's appearance on "Undisputed."
The star of the show, Skip Bayless, suggested the Patriots should hold a meeting and cast a vote for whether or not they think players should be allowed to break from the team and skip the White House visit.
Bayless probably would have elaborated, too. But Nelly cut him off and said,
That's not gonna fly. Because you didn't make a vote last year, or the year before that. You didn't make the vote when Tom Brady -- when the head of your team decided he wasn't going to come...
Nelly was referring to Tom Brady's own absence at the White House in 2015 after the quarterback led the Patriots to a fourth Super Bowl.
Nelly made it clear that he wasn't faulting Brady, either, but he also made it clear that it would be unfair set a new standard for how the team addresses their attitudes toward the White House.
His argument in a nutshell? Tom Brady opened Pandora's box.
That box is open, you can't put the lock on that box and say 'now we're taking votes, all in favor raise your hands' ... that's a done deal.
Now, there's two things to note here.
Here's number one: Um, when did Nelly turn 42? It feels like just yesterday he was making music videos with Kelly Rowland.
Anyway, here's number two: Nelly totally has a point.
Regardless of how anyone on the Patriots feels about players not visiting Trump's White House, it's fair to ask, if Tom Brady can skip out on visiting Obama, why shouldn't any other players feel free to do so as well?