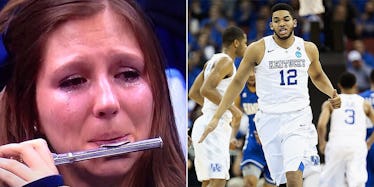 The Complete NCAA Sweet Sixteen Guide For Haters And Bandwagon Fans
Instagram
The Sweet 16 is upon us. The Madness of last week has led us to some pretty great matchups on Thursday and Friday.
At a glance, one striking thing about this group of 16 is their pedigree. Duke, Louisville, Michigan State, UCLA, Kentucky and North Carolina are all there.
However, when you add Arizona, perennial Sweet 16er Xavier, recent Cinderella story Wichita State (bandwagon's full…), NC State and Gonzaga, ACC Champion Notre Dame and consistent Wisconsin, it's clear this is a solid group joined only by two real outsiders in Utah and Oklahoma.
And, Oklahoma Coach Lon Kruger has his own pedigree; he's brought four different college programs to the Sweet 16.
There is also only one double-digit seed remaining in this group, UCLA, which many believe should not have been in the tournament at all.
Once again, it's going to be an action-packed weekend, so do something nice for your girlfriend, boyfriend, spouse, dog, cat, or whatever you love because you're probably going to end up ignoring them for more than a few hours this weekend.
Let's rank each game in the round of 16.
The R-Rated Games (Don't let your kids watch.)
Louisville and NC State (Friday at 7:37 pm)
This game might set basketball back 20 years.
It pins two bad offensive teams against one another. NC State is the 95th (70.4 points per game) best scoring team in the country, and they'll be the better of the two offenses. Louisville is 130th (69.2 points per game) in scoring.
Barf.
Louisville is also one of the best defensive teams in the country, meaning this game might be a low-scoring, brick fest. This game could be a blowout if NC State's 142-ranked defense shows up and plays to its season average.
Kentucky and West Virginia (Thursday at 9:45PM)
First it was Cincinnati who tried to bully the Wildcats. It worked for a bit, but over time Kentucky's size and athleticism wore down the Bearcats.
Now, we get Bobby Huggins in the house. Bobby Huggins is the honey badger of this tournament; he just doesn't give a f*ck, not a single one.
His team beat the crap out of Maryland, and you better believe they will try to grapple with and slow down Kentucky in any way they possibly can.
This will be a brutal, rough-and-tough game to watch. If you love your kids, don't let them watch. They'll only learn bad habits and maybe even have nightmares.
The Bandwagon Games
Gonzaga and UCLA (Friday at 7:15 pm)
This is an interesting matchup, pinning one of the most storied programs in the country against one of the most confusing and confounding ones.
The Gonzaga Bulldogs have made it past the Sweet 16 one time in their history. It's a history rife with exalted praise as a Cinderella in the days of yore, and now is a lightning rod of criticism due to their "easy" schedule and lack of tournament success.
Then, there's UCLA. They shouldn't even be here! They might have been the last team in.
Whoever wins, this game is going to load up on the bandwagon fans, mainly because of who is potentially waiting in the next round: Duke. Everyone hates Duke, and wouldn't it be fun to root for a new Cinderella like UCLA or an old one like Gonzaga?
Notre Dame and Wichita State (Thursday at 7:15 pm)
Wichita State's bandwagon is full and heading down an icy hill without any breaks. It's moving too fast to get on… unless you're a governor. I could spend a week breaking down this picture. Tank-top and button down? Awesome. Or, terrible. Or, just Midwestern?
Notre Dame is Notre Dame. People love them and people hate them. If they beat Wichita State, they might pick up the scraps and fill up their own bandwagon, especially if the ACC loses its other entrants.
The Hate Watch
Duke and Utah (Friday at 9:25 pm)
This could also be in the bandwagon section, but the hate for Duke is so too strong. Besides, Utah might be on the hate watch list, too, considering some of their law making this past month.
As far as hatred for Duke, it burns brighter than the Oklahoma State and Oregon jerseys. I'll let USA Today take it from here. 
Coaching Matchups!
Wisconsin and North Carolina (Thursday at 7:47 pm)
Bo Ryan and Roy Williams are two staples of the college basketball scene. They have combined for 1134 wins and eight Final Four appearances (seven belong to Williams).
Bo Ryan has always stayed out of the BS that lives at the top of the coaching totem poll. He isn't banging chicks in restaurants, paying players or being Coach K.
He's exactly what you would expect from a Wisconsin coach, or maybe he's been so good that the program has taken on his hard-working, gritty and determined persona.
Wisconsin's top three scorers are a senior, junior and sophomore. His freshman are the in the bottom four for minutes played. This isn't to say he does it the right way, but he does it a different way.
Roy Williams and Dean Smith go way back, so obviously we'll hear about that for a solid two hours during the game. A deeper run in honor of Dean Smith would be the only palatable reason for North Carolina success in my book.
Xavier and Arizona (Thursday at 10:17 pm)
It's the classic mentor-mentee matchup! Sean Miller plays the role of mentor and Chris Mack is the mentee.
The Millers have done a number on this tournament the past two seasons. Sean's brother, Archie, made a deep run with his Dayton team last year and coached the pants off Ed Cooley so badly that he threw a chair during a timeout (and don't forget Sean's sister-in-law).
Now, the Millers get even more screen time with this Arizona game. Sean has been a success since leaving Xavier (where he was also a Sweet 16 machine), and whoever wins the game will make the Miller coaching tree look even better.
Michigan State and Oklahoma (Friday at 10:07 pm)
Lon Kruger, along with Eddie Sutton, is the only coach to bring four programs to the Sweet 16.
Tom Izzo, simply put, is a sorcerer. He has made seven of the last eight Sweet 16 tournaments, which is incredible.
The winner of this game suddenly becomes a favorite to make the Final Four because the opponent in the next round is either Louisville or NC State.
Enjoy the games this weekend, and go buy some roses, dog treats or a burrito for your loved ones. It's going to be a long weekend.