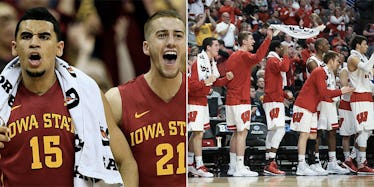 Getting It Wrong: The NCAA Needs To Change Its March Madness Criteria
Instagram
Last night, the wise men bunkered down in Indianapolis to hand down their decision. Shortly thereafter, we learned the 68 teams who will compete for the NCAA Men's Basketball Championship.
So far, it looks like 67 teams are going up against the insanely stacked Kentucky squad that could end the season at 40-0. This would be enough wins to make the NBA Eastern Conference playoffs.
On some campuses, outrage abounds as the varsity team is missing their chance to take part in a historic tournament and make a big splash. Even with the field of 68, a few schools will be left out.
While the selection committee won't be able to avoid hurting someone's feelings, even if they expand to 128 teams, there are ways to reconsider the at-large decision-making to make the most exciting two weeks of college sports even more compelling.
They're taking way too many bad big schools
The biggest complaint fans have of the NCAA Selection Committee is that they choose so many big conference schools that have mediocre credentials over smaller schools that impressed but lost in the conference tournament.
Murray State and Colorado State won 27 games this year, but will prepare for the NIT. UCLA lost five in a row from December 13 to January 4 on their way to 20-13. Indiana lost their last three conference games and also went 20-13.
Texas finished 20-13 with a 8-10 conference record and lost three times to Iowa State. Guess what? All three of those teams made it to the round of 64.
By comparison, the four at-large teams in the First Four all have better records than the three teams aforementioned. The weakest is SEC member Ole Miss at 20-12. BYU, Boise State and Dayton all play in strong mid majors.
The first two are well-known programs, while Dayton is the host of the First Four, which doesn't seem quite fair.
By contrast, Louisville will host two of the first weekend "pods" headlined by Iowa State as a 3-seed, and archrival Kentucky will be greeted like blue-clad Imperial Stormtroopers. The Cardinals as a 4-seed will travel to Seattle.
So, why do big schools get so much seeming favoritism while the Rams and Racers join seven other small-conference schools who won at least 27 games but didn't earn a spot in the tourney? Here's what the national pundits don't mention in their analysis of the Selection Committee.
I went to the University of Pennsylvania and graduated with a class that won three Ivy League titles. In addition to more banners to hang at the hallowed Palestra, the NCAA handed the athletic department a gross of tickets to sell to students, alumni and other supporters for the games.
Smaller schools may not sell 3,000 or so seats hundreds of miles away, even if it's a favorable matchup in a cool city. Big schools like Indiana, Texas and other state schools don't see it as such a challenge.
It doesn't matter if they get blown out; those fans will spend money and buy the inventory they have to sell. Again, don't let the virtues of collegiate pursuits get in the way of making money. Keep it classy, NCAA.
The regular season doesn't really matter anymore
The only conference that doesn't decide their automatic qualifier is the Ivy League. I called the games during my time there and thoroughly support the teams, even though I find the decision to avoid the football post-season asinine and foolish.
You couldn't pay me to watch that conference tourney as a fan (as a media professional, that's another story, of course).
The 14-game conference slate is enough to decide a winner usually, while the one-game playoff this weekend was compelling and saw Harvard win in the last seconds to claim another conference crown.
That's the only conference that doesn't take a few days during the second week of March to bring most/all their schools into a big knockout tournament that determines their conference champions.
These tournaments do too much to determine who makes the Big Dance and who doesn't. Nine teams since 2011 dominated their regular seasons, especially conference play, to 27 wins in smaller conferences.
One bad game, perhaps on a bad call or lucky shot, and they throw their fate into the hands of a callous group who has shown their refusal to think outside the cash box.
Those road wins where you had to study on the team bus/plane for that midterm and overcome that nagging elbow injury or flu? Yeah, that doesn't mean anything to the selection committee, although it should.
Put yourself in the shoes of the average student, with decades of debt waiting after the four years in school. All those cold weeknights where you sat through that boring class to go nuts at the gym with all your friends and classmates?
Yeah, that doesn't mean two farts. All that money ESPN and other partners hand over to the NCAA for carriage rights for the regular season is now buying the prom ticket and limo for a date who will go home with someone else. CBS is the one all your friends like more.
The NCAA can just shrug their shoulders and ask for more money down the road to all offended parties.
The networks deserve a better field
The NCAA usually throws together some cool matchups in the bracket if the higher seeds win.
The weekend games could feature Wichita State vs. Kansas in a Sunflower State showdown in Omaha, while Maryland and West Virginia could meet in Columbus. While creative and certainly fan-friendly, these compelling games don't happen often enough.
People who don't have a preferred team in an early matchup will certainly tune in to see a school they've never heard of against a power if there's a chance of an upset.
In 2004, I called the Manhattan-Florida game the "Skip Class to Watch" game of the first round, in which the Jaspers upset Billy Donovan's team.
These games get good ratings, even if the big team wins at the end, like what happened when Penn fought Texas for 30-plus minutes in Dallas in 2006. I thought that Penn team deserved a 14-seed, not the 15 they got, where they would've beaten Iowa, as Montana did.
CBS has a nice deal with the NCAA, where it will share carriage with three Turner cable networks. These games will be on in every bar, tavern, pub and eatery in every town and city across America.
The NCAA will sell online streaming packages to fans who are stuck in the office. I'm not spending the money to see UCLA play Southern Methodist on my smartphone. Replace UCLA with Murray State and now you can have my money.
That game could get more eyeballs and attract more companies to advertise on truTV, which will air the game. The networks spend the money to attract new viewers and partners.
Bringing the same old teams to the Dance won't get that done. However, NCAA still cashes the check.