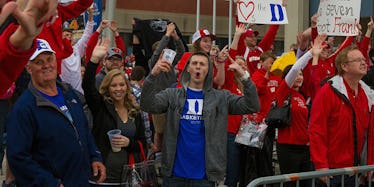 This Is How To Go To A Final Four Weekend And Live Like A King (Photos)
Sean Horan/Elite Daily
A trip to the NCAA Final Four should be at the top of every real sports fan's bucket list.
The festivities throughout the city, the excitement of a new champion being crowned and all the school pride you feel (even if you have no affiliation) make you believe you're in college again.
But, a trip to the Final Four is more than just watching some basketball and getting frat boy wasted.
This year in Indianapolis, we saw Duke beat Wisconsin to win their fifth National Championship.
Elite Daily was in the building all weekend to show you how to rock out at the Final Four like a king.
Party with the college kids:
The first night is a Friday. All the fans are in good spirits, and no one's been eliminated yet, so the college kids will be raging. Go ahead and join them. See if you're still about that life.
Realize how weird they are:
Then quickly realize you're not about that life. Go somewhere tasteful, and grab yourself a more wholesome Snapchat:
Find the nearest sports show that moved its set outside:
Jump onto the side the cameras are facing, be as rowdy as you can and make sure your mama back home can catch you on TV:
If you're gonna wear a costume, wear something legendary, like this:
And not like this:
Take an epic picture in front of the numerous, unreasonably huge landmarks:
If you're hungry, make good use of your money and experience and choose the most legendary restaurant in the city:
And make sure it has an epic story to it, like "The Peyton Manning Room" at the St. Elmo Steak House:
Or you can catch one of these guys and cop a free ride to BK in the flyest car in town:
Also, you really can't go anywhere around Indianapolis without running into the #ChickenFries mafia pic.twitter.com/Db6tjQdyOs — Joseph Milord (@JoeMilord) April 6, 2015
That is, of course, if these students don't beat you to it. If there's anything college kids love more than Chicken Fries at Burger King, it's the idea of anything free:
And you'll have the perfect opportunity to let them know how jealous you are of their sick student section:
Be mentally prepared to catch all of the action of the Saturday doubleheader:
Because the suspense can bring you to your knees:
Make sure to hold your nerve and not get meme'd:
Because you don't want to end up like this guy:
That moment after your team's perfect season comes to an end. pic.twitter.com/S3TR4vVJwW — SportsCenter (@SportsCenter) April 5, 2015
On the off night, visit another a sporting event. With the Final Four in town, you'll probably find can't-miss promotional deals like this:
And then you'll end up meeting crazy fans like this:
Or, you can go see the actual rock stars in action at the Final Four Fan Fest:
Thank you Indiana!!!! I would never forget how much fun I had with you tonight!! You blew me away!!! Thank you man!! One love always — Rihanna (@rihanna) April 5, 2015
And walk away with a moment that will give you chills:
Like seeing the Zac Brown Band covering Queen.
Get a tour of the court and sink a few shots, just so you can say you scored more points at the Final Four than Duke's benchwarmers
Just make sure to not interrupt the production team's pick-up games (lucky bastards)
Snap a pic with a celebrity so that you, too, may become a celebrity by association
And for the final, be sure to be patriotic:
Because you know you could only catch these fireworks in America: