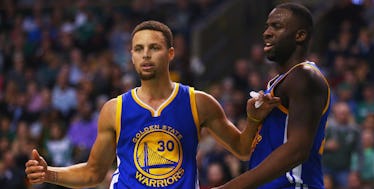 How To See Your Favorite NBA Team For The Lowest Price
Getty Images
I love going to an NBA game as much as the next sports fan, but tickets are expensive. And it's not just the tickets. The food, drink, transportation and all other costs I incur at a sporting event make attending one an increasing rarity for me.
But, thanks to a recent study from the good folks over at Busbud, you can actually use data compiled over the last six years to help you see your favorite NBA team for the best possible price.
Beginning with the 2010-2011 NBA season, Busbud examined variations in ticket prices to provide sports fans with information on how to score cheap tickets, as well as determine if fans are actually getting value back from their investments in teams.
Here's every NBA team's win percentage based on the average league ticket price of $86.
As you can see in the above graph, the San Antonio Spurs are incredibly successful, yet the organization charges below-average ticket prices. As for the New York Knicks and the Los Angeles Lakers, well, it looks like you're not getting good values on those tickets you purchased to go to Madison Square Garden or the Staples Center.
This graph will help you determine the best (cheapest) month to purchase NBA tickets across the board.
So, everyone's going to buy his or her NBA tickets in August from now on, right? Also, don't get caught up in buying NBA tickets during the holiday-season rush.
If you don't buy in August, Busbud advises you to look for special promotions or wait until very close to game time to try and snag a cheaper seat.
Here's every NBA team's average ticket price fluctuation since the 2010-11 season, as well as each franchise's win percentage.
You may get the best value by purchasing a ticket to see the Spurs play at AT&T Center, but don't buy a team hat while you're there.
And if you're going to a game in Boston, be sure to either take public transportation or park far away from the arena and walk.
Next time you want to attend an NBA game, you better check the data first!
Citations: Which NBA teams deliver the best value for the money to fans? (Busbud)