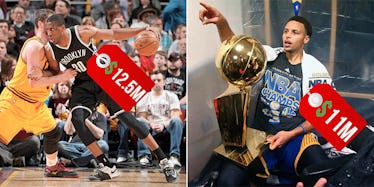 NBA Players You Didn't Even Know Existed Are Getting Paid Like MVPs
Facebook/NBA
If there were ever a time to be jealous of professional basketball players, it's now.
With the NBA's free agency period having officially opened on Wednesday, teams around the league were practically falling over themselves to throws money around.
The result? Players you literally didn't even know existed are getting huge offers that place their multi-million dollar salaries in the double figures.
And it's not just players that you, the casual fan, don't know. In expressing his own amazement at the contracts players were signing on the first day of this free agent frenzy, ESPN radio show host Bomani Jones admitted he didn't even know who Milwaukee's Khris Middleton was until a few months ago.
And yet, the Bucks shooting guard, and other lower-profile players like him, have landed salaries that now see them getting paid more than the league reigning MVP, Stephen Curry.
Who won (and lost) on Day 1 of free agency? @NBATV's experts provide their take ... WATCH: http://t.co/U1yMMZKiMe pic.twitter.com/x742WjFLg9 — NBA.com (@NBAcom) July 2, 2015
As we've written here previously, the Golden State Warriors have Curry on a bargain of a contract that pays him an average salary of about $11 million per year for two more seasons.
Indeed, the fact that guys like Middleton, the Nets' Thad Young and the Celtics' Amir Johnson are making more than the 2015 NBA champion is worthy of note and explanation.
So, what's behind these seemingly insane salaries for seemingly mediocre players?
The generally accepted truth about this summer's free agency situation is that teams are operating with the knowledge the salaries they are handing out today won't really be worth as much in the next two years.
Because the NBA employs a salary cap, and restricts teams' spending according to that cap, the amount of money all teams are allowed to spend is set relative to the amount of revenue the league makes.
After the NBA signed a massive deal with ESPN and TNT that goes into effect after next season, the league's revenue is virtually guaranteed to jump and so will the salary cap.
That affects the market and the value of players around the league, particularly over the life of the contracts they're signing this summer.
New NBA TV deal, which starts in 16-17, is worth $930M/year, +186% from current deal. $ being committed today is drop in the bucket — Darren Rovell (@darrenrovell) July 1, 2015
So, while a guy like Omer Asik who, as "SportsCenter's" Tom Haberstroh pointed out, only made eight total points in four games against the Warriors during the first round of this past season's playoffs, can sign a five-year, $60 million deal with New Orleans, Steph Curry might be making as much as $35 million per year when he signs a new deal in two years.
In fact, the whole scale by which the league's top players -- *cough* LeBron *cough* -- will be paid is subject to shift.
One fan created a projection of the informal tiers players will fall into according to their salaries, and that projection actually falls in lines with the numbers laid out by the smart guys at Basketball Insiders.
These are the new player tiers due to the insane #NBA salary cap jumps in 2016 & 2017 and the #NBAFreeAgency frenzy: pic.twitter.com/gAAqKagjOd — Shahin Jacob Ourian (@ShahinOurian) July 1, 2015
Imagine being "average" at your job and being paid $17 million. What a time to be alive (as a basketball player).