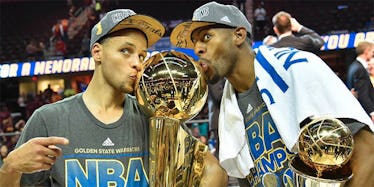 The Biggest Reason The Warriors Can Repeat Has Nothing To Do With Talent
Facebook/NBA
You think it's Steph Curry having another year to continue get even better?
Nope, not it.
You think it's the team having a chance to gel even more? Close, but guess again.
Yeah, the Golden State Warriors are a super talented team whose best players just happen to be young and will only get better, but if you're looking to the court for the greatest reason as to why they can repeat as champions, you're looking in the wrong place.
Instead, all eyes should be on the Warriors' front office, where the team has pulled off pure magic in the way it's locked up most of its best talents on cheap contracts.
Just look at Golden State's contract situation, outlined in this chart.
Compared to past champions, the Warriors are looking incredibly good in this department.
Whereas the 2013 Heat couldn't improve their declining roster because of salary cap rules, and the 2014 Spurs had to face old age as a reasonable concern, the Warriors have young and improving players on cheap salaries.
Festus Ezeli, the strong 7-footer who showed how much of a physical monster he could be during the Finals, will be making just over $2 million next season. 23-year-old Harrison Barnes will be making just under $4 million.
But those bargains are nothing compared to what the Warriors are getting out of Stephen Curry's contract.
As things stand now, Curry will be the Warriors fifth highest-paid player next season, making around $12 million for the next two seasons. That means Golden state will reap the benefits of having at a salary that is literally half of what the Brooklyn Nets pay Joe Johnson.
Just look at how valuable his deal with the Warriors is compared to that of other players, per Basketball Reference.
The way things looks currently, the man who was crowned as the most impressive player of the 2014-2015 season will be just the 48th highest-paid player in the league next year.
And his ranking is sure to go down once free agents begin signing bigger contracts this summer.
Elsewhere on the team, the Warriors have things under control.
Their Finals MVP, Andre Iguodala, and Shaun Livingston are both locked down for two more years. Klay Thompson is tied down for four years.
In fact, every player single player who played a significant role in the Warriors' title run is under contract, except Leandro Barbosa and restricted free agent Draymond Green.
Green would be a huge loss, but even in his case, Golden State has the option to match any offer another team makes.
And the many signs that point to the team trying to trade away David Lee, who didn't play the first two games of the Finals (and his $15 million contract), indicate the Warriors may have the room to pay Green what he wants.
Story going online now: ESPN sources say Warriors and David Lee's camp have resolved to work together to find new home for former All-Star — Marc Stein (@ESPNSteinLine) June 17, 2015
All in all, 2014-2015 the Warriors are a special team, if not legendary.
No team in recent memory has as great a combination of unorthodox style, and a mix of young stars and veteran compliments while getting contributions from an 11-deep rotation.
It's just unheard of.
You can bet on them getting better, too.
And because of the way the players' contracts are set up, most them will get better while staying with the Warriors, your favorites for the 2015-2016 NBA Finals.