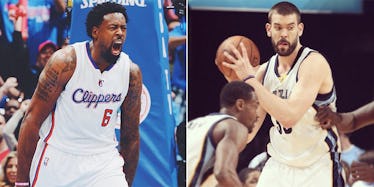 10 NBA Free Agents You'll See Wearing Different Jerseys Next Season
Instagram
Although it was just last week the Warriors were crowned the 2015 NBA champions, the NBA never sleeps.
Teams are preparing to woo free agents in what may be an exciting NBA offseason with plenty of big changes.
So, let's review some of the available free agents who might be switching teams this offseason:
1. Kevin Love
It's hard to predict if Kevin Love will leave the Cavaliers, since he's only played one season, but if there's anyone among big-name free agents who will leave, it's probably him.
Playing as a third option for the Cavaliers clearly took its toll on Love this year, and he looked like a shell of his former Minnesota self.
In Minnesota, Love was the top dog accustomed to having the offense run through him.
In Cleveland, Love was an awkward fit who was often used as a mere spot-up shooter, despite his polished offensive arsenal.
Chris Bosh previously commented on adjusting to playing with LeBron when Love was sent to Cleveland. Bosh, who was an unchallenged superstar with the Toronto Raptors before joining forces with LeBron and Wade in Miami, said:
You don't get your pick of the buffet...You just get your entrée and that's it. It's like, wait a minute, I need my appetizer and my dessert and my drink, what are you doing? And my bread basket. What is going on? I'm hungry! It's a lot different. But if you can get through it, good things can happen. But it never gets easy. Even up until my last year of doing it, it never gets easier. It's going to be very difficult for him. Even if I was in his corner and I was able to tell him what to expect and what to do, it still doesn't make any difference. You still have to go through things, you still have to figure out things on your own. It's extremely difficult and extremely frustrating. He's going to have to deal with that.
Ultimately, Cleveland might not be the right fit for Love, but a destination that does make sense is Los Angeles. Love was born in LA, played college ball at UCLA, and the Lakers are almost certainly going to offer him a max contract.
Not to mention, Los Angeles is incomparable to Cleveland in terms of a big-market city. Kevin Love joining the Lakers is a serious possibility.
2. LaMarcus Aldridge
The freedom of LaMarcus Aldridge has finally arrived, and it is plausible he could be wearing a new uniform next season.
There was a time when the idea of Aldridge leaving the Blazers seemed impossible, but the Blazers struggled this year with a slew of injuries, and LaMarcus may be growing tired of playing with a team that has great potential, but can never seem to get over the hump.
A potential destination for Aldridge could be the Mavericks, as Dirk Nowitzki recently expressed his interest in bringing LaMarcus to Dallas.
Of course, LaMarcus and Dirk both play the four, but Dirk openly expressed his willingness to adjust his role in order to fit LaMarcus into their system.
Considering LaMarcus is a Texas native, the Mavericks genuinely make sense as a landing spot. If you ask me, LaMarcus in Dallas would send shockwaves through the NBA.
That team would be lethal.
3. Marc Gasol
The consensus around the NBA is Marc Gasol is going to stay put in Memphis. Marc has spent his entire career in Memphis, and it seems unlikely he will find a better NBA team to join.
Whereas LaMarcus Aldridge has been with the Blazers for nine years and has never made it out of the first round, the Grizzlies have been in "win now" mode for years.
In spite of that, Marc Gasol is arguably the best center in the NBA, and you can be sure every single team will be courting him.
4. DeAndre Jordan
Over the past few seasons, DeAndre Jordan has emerged as one of the best defensive centers in the NBA, while leading the league in field goal percentage for three seasons straight.
Also, Jordan averaged 15 rebounds per game last season, making him the leading rebounder in the NBA for the second season in a row.
Lastly, he ranked third in blocks, seventh in minutes played, and he currently holds the Ironman record for most consecutive games played in the NBA.
Without question, DeAndre Jordan is due to get paid big time money, and it's likely several teams could offer him a max contract.
On the surface, it seems DeAndre would return to the Clippers; however, rumors are swirling there is a growing animosity between Chris Paul and DeAndre Jordan, which has exacerbated Jordan to the point where he would consider leaving.
Apparently, a focal point of their clashing has been over DeAndre's poor free throw shooting and Paul's assertion that Jordan doesn't possess the willingness to work on it.
While DeAndre may be considered an offensive liability, he did average a touch over 11 points per game last season, and it is undeniable he has a heart larger than the Staples center.
Ultimately, it will be interesting to see if the Clippers offer DeAndre a max contract. If they don't, another team may approach and swoop the potentially disgruntled Jordan away.
5. Goran Dragić
Goran "The Dragon" Dragić was sent to the Miami Heat in February, after vocalizing his distaste for Phoenix's three-headed monster at point guard (himself, Eric Bledsoe and Isaiah Thomas).
Dragić is an incredibly talented point guard, who can drill the three, run an offense and penetrate effectively.
However, he seems to be in a great situation in Miami, as the unheralded starting point guard and a complementary starting unit of Wade (potentially), Deng, Bosh and the emerging Hassan Whiteside.
For now, I foresee Dragić staying put, but that doesn't mean a few teams won't float offers his way.
6. Paul Millsap
In 2013, the Hawks pulled off the deal of the century when they signed Millsap for a bargain at two years, $19 million.
Now that Millsap's contract is up, it's payday, and given Millsap's established reputation as a premier NBA power forward, he may warrant a max contract.
Unfortunately for the Hawks, if they sign Millsap to a max contract, it would dip into their cap space and they might have to release DeMarre Carroll and disrupt the overall talent of their team to appease a big time player looking to get paid.
In Utah, Millsap established himself primarily as a ferocious rebounder, but for the past two years in Atlanta, his game has developed and he's evolved into an incredibly versatile big man.
Millsap can shoot three pointers, manipulate the offensive post and cause a ruckus on the defensive end with an average of two steals and two blocks per game.
In the end, Millsap's development helped push the Atlanta Hawks to their best season in years.
A particularly interesting landing spot for Millsap could be alongside Andre Drummond in Detroit.
It's clear the Drummond/Greg Monroe combination doesn't work, and Millsap could serve as an elusive stretch four, with the ability to work alongside Drummond who is paint dominant.
Another rumor that has surfaced is Utah's desire to reunite with Millsap, while Phil Jackson of the Knicks has spoken about his intrigue with Millsap as well.
Overall, Millsap is another player, like DeAndre Jordan, who's going to warrant major attention from NBA teams and inevitably, he will be getting paid the big bucks.
7. Greg Monroe
As mentioned above, the Andre Drummond/Greg Monroe combination doesn't seem to be working in Detroit, and after Stan Van Gundy boldly waived Josh Smith, it's clear he is going to do whatever it takes to mold a championship contending squad.
To be clear, Van Gundy previously stated Detroit was going to try and keep Monroe, but as two big men who clog up the paint with a similar, major weakness in their inability to chase around quicker power forwards, Drummond and Monroe simply don't seem to be a good match.
Either way, Greg Monroe is an excellent scorer and rebounder, who has proven to be one of the best young centers in the NBA, averaging a double-double last season.
The only downside with Monroe is he can be a defensive liability. Monroe is quite slow and does not block shots. And, as mentioned, he cannot chase quicker power forwards, which makes him neither a true four or five.
Nevertheless, two potential landing spots for Monroe is with the Boston Celtics or the New York Knicks. Both teams have the ability to offer Monroe a max contract and both are in need of a center.
Apparently, Monroe has serious interest in signing with the Celtics, which is an attractive destination because Monroe would become their immediate number one option.
However, head coach Brad Stevens previously stated his interest in acquiring players who can shoot and defend, which are Monroe's weaknesses.
Another landing spot could be the New York Knicks, who have zero big man options. While New York can be a brutal place to play, no one can deny the allure of playing in the greatest city in the world.
Ultimately, Monroe has his downsides, but he's a big man who can score, rebound and pass quite well. Any team would be lucky to have him.
8. Wes Matthews
Wes Matthews, the 3-and-D gunner for the Portland Trailblazers, is set to be a free agent. With chatter of LaMarcus Aldridge leaving, it's possible Wes could be lured to a new NBA team.
Thus far, rumors have been slow on Wes' potential landing spots, but last month there was talk of the Boston Celtics pursuing Aldridge and Matthews in a package deal.
Ultimately, Wes Matthews is the perfect 3-and-D small forward, and his effectiveness shooting the three ball this season was comparable to that of sharp shooter Kyle Korver.
9. Rajon Rondo
Rondo's stock has truly plummeted, and it's questionable whether he actually belongs on this list.
Nevertheless, he is still an excellent playmaker, and it seems to be a lock he will be leaving Dallas, considering his constant clashing with Head Coach Rick Carlisle.
Numerous teams have expressed interest in Rondo, including the talent-hungry Knicks, Lakers, Rockets and Kings.
10. Robin Lopez
Lopez has emerged as a consistent, stalwart center who is an effective rim protector.
Rim protectors are a dime a dozen in the NBA, and with all the chatter about LaMarcus Aldridge, Lopez will be an under-the-radar free agent to keep an eye on.
Honorable mentions:
Danny Green – For some reason, it's hard to picture anyone willingly leaving the Spurs, but Danny Green is another intriguing 3-and-D small forward. If Duncan and Ginobili decide to retire, I wouldn't be surprised if the New York Knicks tried to woo this New York Native.
Tyson Chandler – It seems the Mavericks would have every vested interest in bringing Chandler back, but he's still worth mentioning, as the Mavericks will look to make major moves this offseason.
Honorable restricted free agent mentions:
Draymond Green – It's about to be payday for the indispensable Green, and you can be sure he's not going anywhere. David Lee, although not a free agent, will likely be traded.
Brandon Knight – Fresh off a trade from Milwaukee, Knight will likely stay put in Phoenix.
Kawhi Leonard – You can be sure the Spurs will match any offer for Kawhi.
Jimmy Butler – The same can be said for Jimmy Butler who was arguably the best two player this past year.
Tristan Thompson – Thompson was downright inspiring in the NBA playoffs, and his tenacity, particularly with offensive rebounds, will call for a massive payday.  This situation will be interesting with the potential departure of Love.
Noteworthy player options (players who can choose to test the waters of free agency):
Dwayne Wade – Wade is quickly approaching the end of his career, but so is Paul Pierce and he's still killing it.
There has been chatter of Wade leaving Miami, and he could serve as an invaluable veteran presence on any championship-chasing team, providing leadership and a scoring punch when healthy.
Monta Ellis - Reports have been coming out of Dallas that Monta Ellis was and continues to be unhappy with his current salary.
In particular, he was disgruntled over the fact Chandler Parsons scored a fat contract in comparison to Monta's bargain deal with the Mavericks.
However, Dallas has reportedly stated that if Monta opts out, they will not be inclined to give him a raise. With their sights set on LaMarcus Aldridge, it's possible Monta's time with the Dallas Mavericks has come to an end. Keep an eye on him.
Roy Hibbert – Hibbert has fallen out of the spotlight as the Pacers fell out of playoff contention, but if he chooses to opt out, there's no shortage of teams that would court this dominant 7-footer.
Brook Lopez – Lopez will always be an intriguing option, due to his offensive versatility for a big man. Unfortunately, he can't seem to stay healthy, but he would certainly garner a ton interest if he opted out.