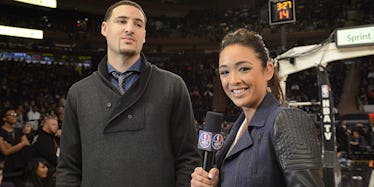 5 Of The Best Storylines Of The NBA Finals, With ESPN's Cassidy Hubbarth
Lorenzo Bevilaqua / ESPN Images
Despite the 2016 NBA Finals being a rematch of last year's championship series, there's still a feeling of novelty to it.
The same two teams are involved, sure, but the Warriors and Cavaliers are meeting under drastically different circumstances this time around.
One of the differences is more obvious: Golden State will be coming up against more than just a one-man team.
ESPN's Cassidy Hubbarth made that clear, stating,
Last year was LeBron James. LeBron James led both teams in points, rebounds and assists. He won two games by his damn self.
As host of ESPN's "NBA Tonight," the show that breaks down the league's action on a nightly basis, Hubbarth is well-placed to talk about the progression of both teams since last year's finals.
Here's her take on some of the biggest storylines for this championship matchup.
The Warriors Improvement
And as you might expect from someone who's kept a close eye on all things NBA throughout the 2015-16 season, the 31-year-old doesn't fail to mention the other side of the coin: The Warriors are much improved, too. She said,
On the flip side, the Warriors are way better than they were last year. So, you have a full, healthy Cavs team now with chemistry. I mean, I am big on chemistry and it is apparent that this team gets along and they're gelling at the right time. And then you have the Warriors, who -- you know -- I don't know if I've seen a team work better than them... This Warriors team has something special, has magic.
There's no argument there. Stephen Curry made a great case for not only the 2016 MVP Award, which he won, but also the league's Most Improved Player award, all while playing just a few minutes.
Draymond Green continued to cement himself as one of the league's best all-around players, and, overall, the Warriors improved their offensive efficiency rating from 109.7 in the 2014-15 season to 112.5 in 2015-16.
Most of all, on their way to the playoffs, they eclipsed Michael Jordan's 1996-96 Bulls in claiming the best regular season record ever.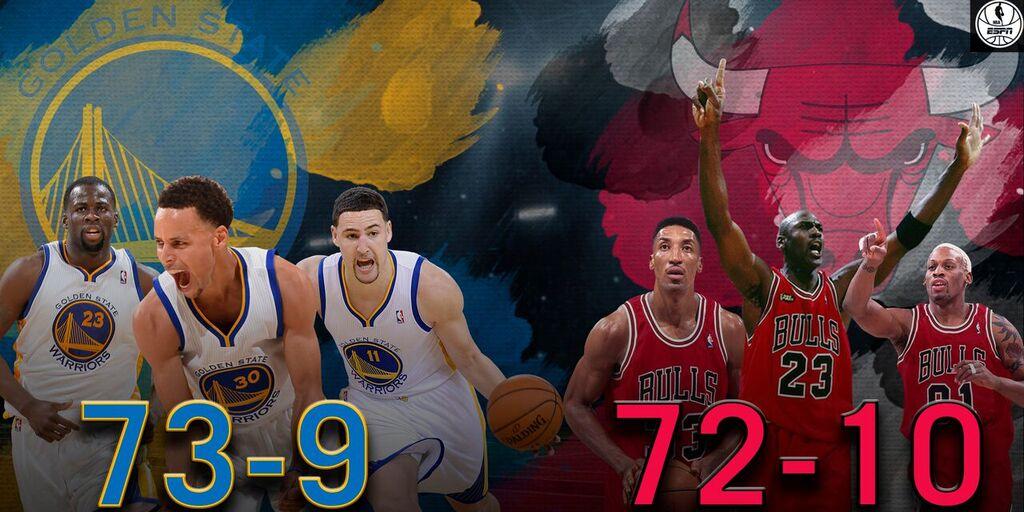 For the Cavaliers, winning a ring won't be a simple matter of beating a team they took two games against last year while playing severely short-handed. It's now a matter of beating a team that might literally be the best. Ever. Period.
That task requires a lot of help for LeBron James. Speaking of which...
The King's Court
Regardless of how anyone feels about LeBron James, his performance during the 2015 Finals -- averaging 35.8 points, 13.3 rebounds and 8.8 assists -- made his greatness that much more undeniable.
After last year, his dominance in this series feels like a given. The question, then, is obvious.
Hubbarth said,
For the Cavs, who's gonna show up outside of LeBron? Kevin Love and Kyrie Irving; are they going to be trusted in this series? Can they continue their three-point shooting? Is JR gonna go ghost like he did in the Finals last year? So, that's basically the two biggest factors I'm looking into.
That is where the conversation gets interesting. Love and Irving are two All-Star caliber players, but their defensive troubles against Toronto in the Eastern Conference Finals were exactly that: troubling.
ESPN's Zach Lowe pointed out the pair as the undeniable weak link in Cleveland's defense, with the two having performed so poorly against the Raptors' pick-and-roll plays.
That weak link could get even uglier against the Warriors, who can give the Cavs nightmarish matchup problems.
As for JR Smith, between the regular season and postseason, he's increased his shooting numbers significantly. Still, his terrible performance during last year's Finals -- he shot 29.4 percent from the three-point range -- should be fresh enough for there to be doubt over whether he can deliver in this series.
Still The Villain
There seems to be a bit of a change when it comes to the widespread adoration the Warriors have. Stephen Curry's celebrations in opponents faces aren't going unnoticed, neither are Draymond Green's nightly kickboxing sessions.
And just today, Chris Haynes of the Cleveland Plain-Dealer filed a report detailing how Cavs players feel about the Warriors and the idea Golden State gets preferential treatment from the league and referees.
New Story: How #Cavs really view Stephen Curry and why they must play near perfect to beat Warriors in #NBAFinals https://t.co/r8U6lRw3LY — Chris Haynes (@ChrisBHaynes) June 2, 2016
That begs the question: Which side is more of a villain for this series, the guy who people usually find it easy to root against despite playing for the underdog or the favorites who are slowly getting under fans' skin?
For Hubbarth, LeBron just has too much baggage to be a villain of sorts. She said,
I still think people look at LeBron and just see him as this complainer and I still don't think people are over him leaving Cleveland, even though he's wearing a Cleveland jersey right now. I, however, have enjoyed seeing him enjoy these playoffs. It's actually been really nice to see him so happy and see him get along with his teammates that in a little way I'm rooting for that. It's nice to see when people are enjoying themselves.
Dray Watch
One of the more interesting points about this series going under the radar is the status of Draymond Green. The Warriors forward is still one misstep from facing a suspension, which means, at least in theory, he could be baited into missing a game for Golden State.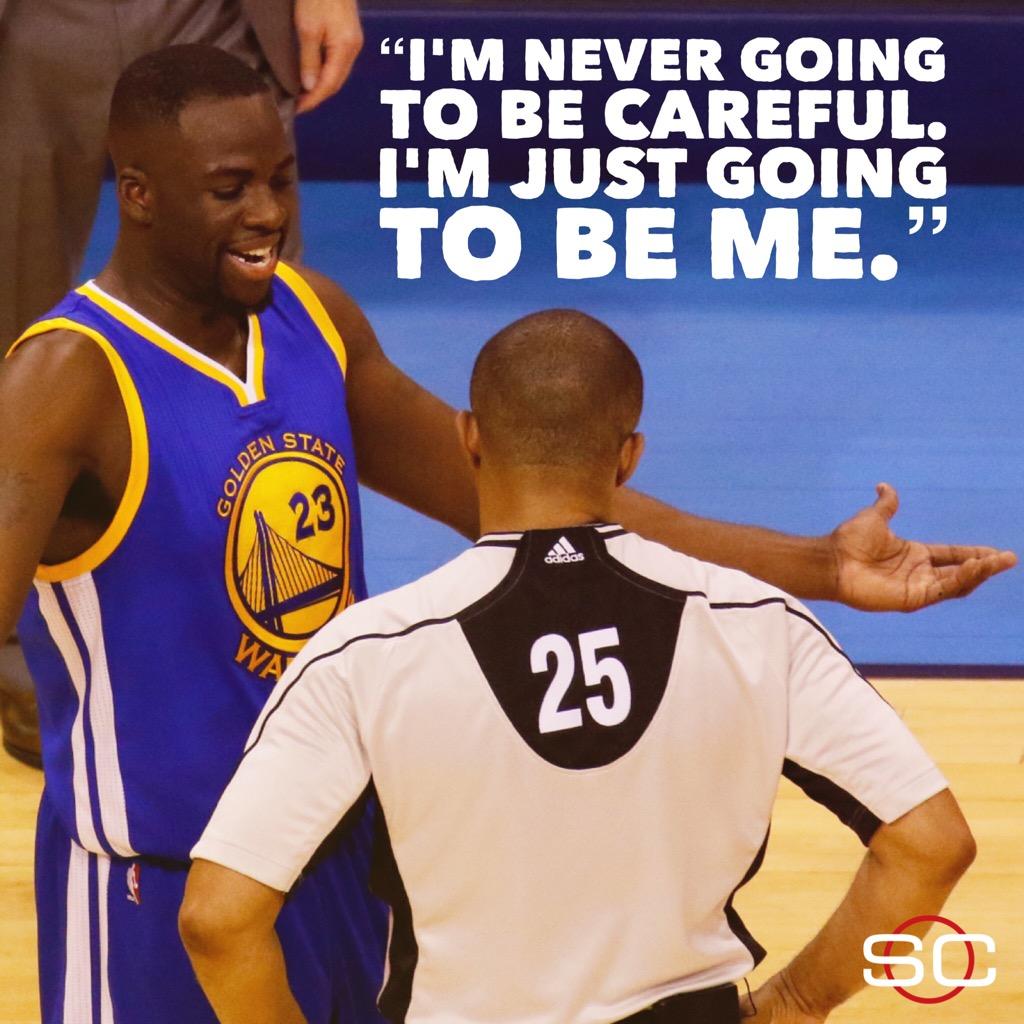 Hubbarth said,
I foresee things getting really, really physical with Draymond because he only needs one more flagrant then he's suspended. So, this is a whole new matchup. Obviously we know that Steven Adams got in his head, but what are the Cavs gonna try to do to get in his head? Because Draymond really has not been good these playoffs. His numbers have been down really for eight straight games.
Green had reached all-time levels of terrible against OKC during the Western Conference Finals, shooting 35 percent overall and 20.8 percent from three-point land.
Whether he returns to his All-NBA Second Team standard or whether, on the flip side, he ends up missing a game is definitely something to watch for.
Something To Prove
Despite the fact the Cavaliers are the underdogs and the fact LeBron is the less-liked superstar, Golden State still has a lot to prove in this series.
A loss to Cleveland would not only validate one of the most cynical criticisms thrown their way -- that they only won the 2015 title because of the Cavs' injuries -- but they would effectively blow a chance to be recognized as the best team in NBA history.
They have the ability to be named the best team in NBA history, like, that's what the numbers say. You can argue with the eye test, but as far as the numbers say they will be going down in history as the best team in NBA history, if they win a championship. If they don't, there'll always be a 'but.'
Regardless of which result affects whose legacy and who's pulling for whom, there is one thing about this Finals series that won't be debated.
I think we are really fortunate to be seeing two MVPs in their prime going at each other.
That much can't be argued.