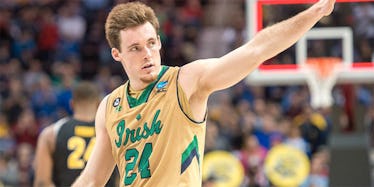 NBA Draft Sleepers: 5 Guys Who Will Produce At The Next Level
Facebook/Notre Dame
LeBron James and Stephen Curry are the headlining acts of this year's NBA Finals, but undrafted second year Cavalier Matthew Dellavedova and Golden State 2012 second-round pick Draymond Green are playing key roles in helping make this a series for the ages.
Though the first round of the NBA Draft is thought to be where teams will pick up their stars of the future, there are usually several key contributors on each team who fell past the round of guaranteed money.
Here are five players from the upcoming draft expected to fall to the second round (or completely out of the draft), who have the potential to be key contributors for their respective teams some day.
Pat Connaughton, Notre Dame
NBA Comparison: Wesley Matthews, Portland Trail Blazers
Originally thought of as a shooter willing to sacrifice his body on hustle play, Connaughton surprised everyone by recording the highest vertical at this year's NBA draft combine (44 inches).
Though largely projected as a shooter, his physicality and will to win means he won't be afraid to penetrate and challenge the bigger, stronger bodies of the NBA, rather than floating around the perimeter.
He is said to be a very good teammate who will fill whatever role his team needs. Another NBA comparison is Kyle Korver of the Atlanta Hawks.
Terran Petteway, Nebraska
NBA Comparison: Lance Stephenson, Charlotte Hornets
Though Petteway does not have the character question marks that Stephenson did when he was coming out, they have similar playing styles.
Both are able to score in a variety of ways and can take over a game offensively, but sometimes get tunnel vision and force up ill-advised shots.
Unlike Stephenson, Petteway is an under-recruited and overlooked prospect, who will surely feel a great sense of loyalty to the team that takes him.
It's also tempting to pick Danny Green of the Spurs as Petteway's NBA comparison, but Terran struggles in the catch-and-shoot situations, which Green has made his living off of.
Petteway essentially was the Nebraska offense over the past couple years, which most likely led to him jacking up so many bad shots. If he ends up with the right team, he will be a valuable asset due to his versatility on both ends.
Joseph Young, Oregon
NBA Comparison: Monta Ellis, Dallas Mavericks
Young is, first and foremost, a scorer. He does not have the size of a prototypical shooting guard (6'2"), though it appears that is his natural position.
He is thought of as a shooter, but has enough quickness to lead a fast break or take most defenders off the dribble.
He is sneaky without the ball, and his ability to catch opponents off guard on back-cuts will lead to fouls, as defenders try to recover.
He shot above 90 percent from the free throw line while at Oregon. Another NBA comparison is Mo Williams of the Charlotte Hornets.
Keifer Sykes, University of Wisconsin-Green Bay
NBA Comparison: Isaiah Thomas, Boston Celtics
Sykes, like Young, is another guy who can score in bunches. He is smaller than Young, but more explosive.
He needs to improve as a shooter if he is going to replicate Isaiah Thomas' offensive production, but his quickness alone could make him an intriguing option for a team's back-up point guard spot.
He could be a unique defensive asset as a short spurt "gnat," coming off the bench to match up full-court on the opposing point guard for a few possessions while the starter rests.
Once he develops a consistent pull-up jumper, he could be an instant offense guy. Another NBA comparison, though he was drafted in the first round, is diminutive journeyman Nate Robinson.
Cliff Alexander, Kansas
NBA Comparison: Paul Millsap, Atlanta Hawks
Alexander is a blue-collar guy who is an excellent rebounder, but struggled to find an offensive rhythm during his one year at Kansas.
He is a banger on the blocks who should find his way to the free throw line a good amount in rebound and put-back scenarios. He is an above-average free-throw shooter for a big guy.
He needs to develop one or two go-to moves to use on larger defenders.
If he develops a nice baby hook or drop step to go with his physicality and ferociousness, he could become a very serviceable power forward.
Another NBA comparison is Kendrick Perkins of the Cleveland Cavaliers.