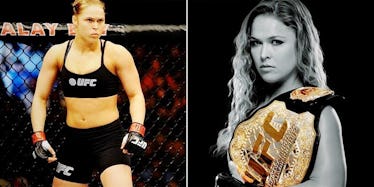 26 Reasons Ronda Rousey Is The Most Dangerous Woman In Sports
Instagram
Ronda Rousey might be is the most badass female athlete to ever grace the earth. Straight up.
To put things in perspective, the UFC Women's Bantamweight Champion is the Mike Tyson of female MMA, minus the drug addiction and criminal charges.
The scariest part? We're not sure if she's even entered her prime yet!
And she happens to be a total babe -- all while striking fear into the hearts of women and men alike.
Her journey to the top is exactly the stuff champions are made of, and her reign of dominance is something that will be remembered for a long time -- if she ever loses, that is!
There aren't a lot of ladies out there like Ronda, but for the sake of humanity, thank God there aren't. She's one-of-a-kind!
At just 28 years old, Ronda Rousey is the undisputed UFC Women's Bantamweight Champion.
Worth $5 million, she is now the highest-paid female MMA fighter in the world.
But, it wasn't always like that.
To say she's the best in her class is an understatement.
She's known for her lethal armbar submission, which has her opponents tapping in seconds.
Unfortunately, her last opponent got caught with one in just 14 seconds.
Which means you could watch the entire squabble on an Instagram video!
It's no wonder they call her "Rowdy" Ronda.
However, she did get the nickname with the blessings of wrestling legend "Rowdy" Roddy Piper himself.
Despite all of the beatdowns and ass whoopings, Ronda has a gentle side, too.
That includes spirituality through meditation...
...staying fit with some exercise...
...modeling during her free time...
...watching (and being a part of) WWE...
...and, of course, her love for Pokémon.
Do you think she gives two f*cks about a hater?
Side note: Ronda can take down any dude with ease.
Just listen to this story about how she beat up a group of men at the movies.
At the end of the day, Ronda is just a hometown girl.
She likes to eat wings after a big win!
It looks like Ronda got it from her mama, a former Judo champion.
Her mother isn't exactly a fan of any of her boyfriends.
In an ESPN article written by Ronda's sister, she admitted their mother doesn't even bother getting to learn the names of her daughter's boyfriends.
[She] has a policy of calling all of our boyfriends and even potential boyfriends by the name 'Bob.' Her reasoning: 'What's the point in learning his name if he's not going to be sticking around?' She also assigns completely arbitrary numbers to each Bob to differentiate one from another. For example, Ronda's last boyfriend was 'Bob 6.' And yes, she calls them that to their faces. So how does a boyfriend move from Bob to his actual name? The only way that happens is upon marrying into the family. So yes, by this standard, Ronda has dated only guys named Bob. (Well, except for Ronda's first boyfriend, but Mom's name for him is not suitable for print.)
Sorry guys, Ronda has a big crush on MMA legend Fedor Emelianenko.
He would easily kill you, too.
And in case you were wondering, Ronda loves to have sex before big fights!
Now, that's a real woman!