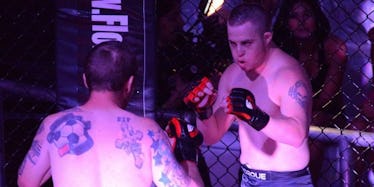 This Video Tells Amazing Story Of First MMA Fighter With Down Syndrome
Thanks to a new feature documentary from The Guardian, the world can now hear and see the story of Garrett "G Money" Holeve, an MMA fighter with Down syndrome who will let nothing stand in the way of living his dream.
And there are plenty of forces attempting to stand in his way.
Although Garrett was trained in Brazilian jiu-jitsu from an early age, there are many who don't think he should be allowed to compete in MMA events.
In August of 2013, Holeve was scheduled to have his debut fight against David Steffan in Florida.
Steffan has mild cerebral palsy, and when news of Steffan and Holeve's impending fight started spreading, the state of Florida took action to stop the event from taking place. The fight ended up being cancelled just minutes before the pair were set to square off.
The two fighters were crushed, but they were not defeated.
Eventually, thanks to the tireless efforts of the fighters, their families and 125,000 signatures, Garrett and David got their shots.
Below is the incredible story of a young man who fought for his life and opened the door for so many others in doing so.
Citations: Watch the Story of Garrett 'G-Money' Holeve, America's Only MMA Fighter with Down's Syndrome (Complex)