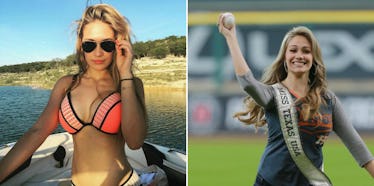 Miss Texas Threw The Worst First Pitch Ever But Her Sexy IG Pics Are Amazing
Instagram/Twitter
Before Wednesday night's Houston Astros game, Miss Texas, Daniella Rodriguez, took the mound at Minute Maid Park to throw out the ceremonial first pitch.
As you can see in the video below, it was pretty much the worst first pitch ever. In fact, it was closer to a football touchdown celebration spike than a baseball pitch.
Yeah, if you're having flashbacks to such first pitches as the ones thrown by 50 Cent and Carly Rae Jepsen, you're definitely not alone.
However, while many news outlets have published headlines making fun of Daniella Rodriguez for her poor excuse for a first pitch, I think it's more important we focus on her positive assets.
After all, Rodriguez is Miss Texas, which means she's a Miss American contestant, which means, yup, she's sexy AF.
She's absolutely gorgeous, and a closer look at Daniella Rodriguez's Instagram photos will make you forget all about terrible first pitches -- and everything else in your life for that matter.
Wednesday night, Miss Texas 2016 Daniella Rodriguez threw out the first pitch at the Houston Astros game.
Her pitch was so bad, she ended up pretty much bouncing the ball to home plate.
As you might expect, the internet immediately started making fun of Miss Texas for her terrible first pitch.
You have to admit, comparisons to 50 Cent and Carly Rae Jepsen are definitely deserved...
...but a closer look at Daniella Rodriguez proves everyone is missing a way more important point: Miss Texas is sexy AF.
One look at Rodriguez's Instagram account will make anyone forget about first pitches, baseball and sports in general.
Miss Texas is absolutely gorgeous.
Who cares if she can throw a baseball or not?
From the looks of it, Rodriguez has plenty of other talents to showcase.
Apparently, Rodriguez was crowned Miss Texas Teen USA in 2013...
...so we should've known she was always destined for big things.
Everyone is talking about Miss Texas Daniella Rodriguez this morning...
...but for all the wrong reasons, clearly.
Keep doing your thing, Miss Texas.
Citations: Miss Texas Channels 50 Cent For Her Slightly Off-Target Ceremonial First Pitch (UPROXX), daniellardzz (Instagram)