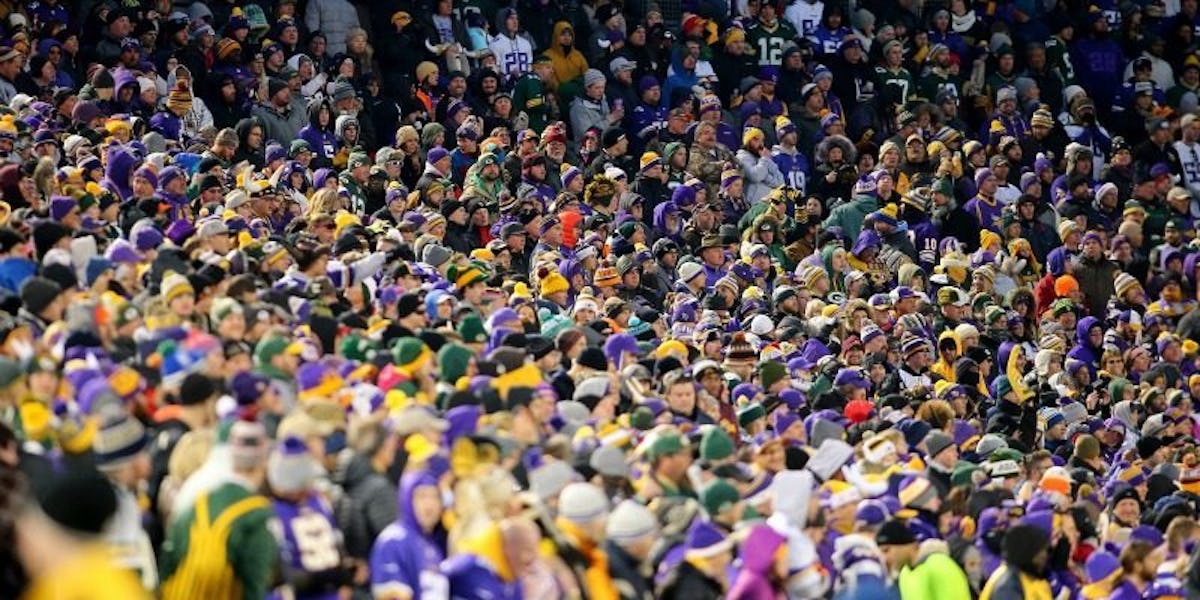 This Man Was Asked If He Was A Refugee At An NFL Game, And It's Not OK
Getty Images
Deepinder Mayell was excited to attend last Sunday's Minnesota Vikings game at TCF Bank Stadium, but after making his way inside, he was accosted by a man who wagged his finger in his face and demanded to know if he was a refugee.
Mayell said,
I was excited, and, as I found my seat, I thought about bringing my family to a game in the new stadium. What I didn't expect was for a man to push aside other people and point his finger in my face, demanding to know if I was a refugee. He needed to make sure I wasn't a refugee, he said. There was anger in his face and vehemence in his accusation. I was stunned. He didn't know anything about me. We were complete strangers. But somewhere in his mind, all he saw was a terrorist, based on nothing more than the color of my skin. He was white, and I wasn't. He didn't see anything else.
Mayell continued,
He didn't know that I have lived in Minnesota for the past four years, that I was born and raised in New York and that the words 'Never Forget' may mean more to me than to him. He didn't know that when I went home and my children jumped on top of me and asked 'How was the game?' that I'd be holding back tears as I told them about racism instead of touchdowns. He didn't know that I am an attorney and the director of the Refugee and Immigrant Program at the Advocates for Human Rights. It was also abundantly clear that he didn't know about refugees, dignity or freedom.
Mayell was outraged by this stranger's callous disregard for respect, but worse, he was terrified and astounded by the silence of those who watched the situation unfold around him.
The ignorant man eventually dropped it, but Mayell confronted him with a security guard and shared how scared he made him. Then, Mayell received a half-hearted apology he wanted no part of.
Instead, he wanted the racist fan removed from the game, but that didn't happen. The Vikings made it crystal clear to Mayell racist accusations don't warrant a stadium ejection.
Mayell added,
I am deeply troubled by what happened to me. Hate speech is a warning for us all. It is like smoke. Imagine your office, church or stadium filling with smoke, while everyone acted like nothing was wrong. That smoke eventually becomes an unstoppable fire, the type of fire that has consumed people around the world to commit horrendous crimes, the type of fire that can bring down the entire building.
Thanks, Donald Trump. Your belligerent, xenophobic rambling finally empowered others to act on their "entitlements" as Americans and take it upon themselves to question their fellow citizens' backgrounds.
This is not OK, and only we can stop it.
Citations: My run-in with hate speech at a Minnesota Vikings game (StarTribune)