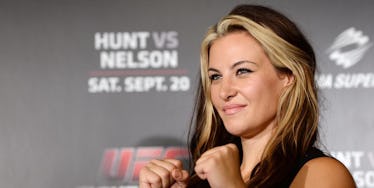 This Super Food Fueled Miesha Tate's UFC Victory Over Holly Holm
Getty Images
Saturday night at UFC 196, Miesha Tate shocked the world by taking down Holly Holm in the fifth round of their Women's Bantamweight title fight.
The 29-year-old Tate made Holm tap out via rear-naked choke, which sent the MGM crowd into a frenzy...
...and left Tate in a state of utter disbelief.
That feeling when you realize you're a UFC world champion ... @MieshaTate #UFC196 pic.twitter.com/0Msyk978lY — UFC (@ufc) March 6, 2016
You can count UFC Light Heavyweight Champion Daniel Cormier among those who were beyond impressed with Tate's victory...
@MieshaTate what a performance young lady! Never gave up on herself. @HollyHolm keep ur head up. You're a warrior. — Daniel Cormier (@dc_mma) March 6, 2016
...as well as NFL legend and Hall of Fame wide receiver Michael Irvin.
Wow what a patient fight by Miesha Tate congrats on becoming a Champion @ufc — Michael Irvin (@michaelirvin88) March 6, 2016
If you're a casual UFC fan or someone who didn't even know who Miesha Tate was before she took down Holly Holm, you might think Tate got lucky or Holm was having a bad day.
But, if you take a few minutes to look into who Miesha Tate really is, you'll see her recent victory is far less of an upset than many on Twitter and the Internet would have you believe. Tate, who lost her first title shot at UFC 168 at the hands of Ronda Rousey in 2013, had been training for this past Saturday night since she first became a wrestler at Franklin Pierce High School in Tacoma, Washington.
Part of that training is centered around nutrition and, it appears, the addition of one superfood to Tate's diet: coconut oil.
I'm now cooking with Coconut oil! No cholesterol! Love it! Thanks @NEWtrition4life the best nutritionist around! — Miesha Tate (@MieshaTate) November 27, 2012
Training from morning to night in hopes of getting a rare championship fight opportunity is no easy task. In order to stay fueled for the rigors of training, competing and dealing with the media, Tate told Shape she ingests two servings of coconut oil a day.
Speaking of the benefits of the superfood, Tate reportedly said,
It's packed with healthy fats and energizes me for my workouts.
However, it appears that's only the tip of the iceberg when it comes to coconut oil.
According to Authority Nutrition, coconut oil initially got a really bad rap because it's loaded with saturated fat. Like, 90 percent of its fatty acids are saturated.
But, not only are saturated fats allegedly not as harmful as initially reported, coconut oil saturated fats are in another league altogether.
Coconut oil saturated fats are said to contain medium-chain triglycerides, which are metabolized straight into the liver, allowing the body to use them for rapid energy.
You know, like the energy one might need to execute a rear-naked choke in the fifth round of a title fight.
Another supposed benefit of coconut oil is its ability to help prevent infections by killing off viruses and bacteria in the body. A major challenge for UFC fighters is staying in peak physical condition year-round in order to be ready for what could be their one major fight of the year.
Obviously, one of the keys to always being at the top of your game is staying healthy. When it comes to the UFC, being sick for any amount of time could seriously derail your year, if not your entire career.
I'm not sure how this superfood actually tastes, but if that's a concern of yours, you can always mix a teaspoon of the good stuff into your regular fitness drinks or teas, just like UFC Women's Bantamweight Champion Miesha Tate.
Introducing coconut oil into your diet probably won't make you a UFC champion, but it may boost your energy, kickstart your metabolism, protect your body from infections, help you lose weight and lower your risk of heart disease.
Miesha Tate is clearly about that life -- are you?