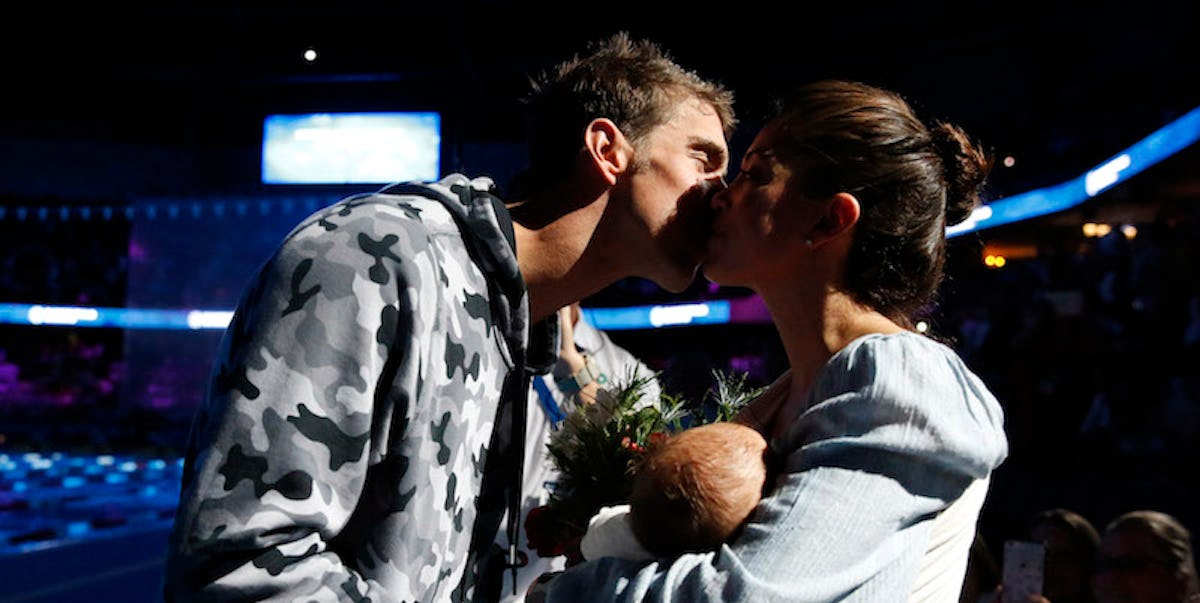 Michael Phelps' Wife Revealed Secret Wedding On Instagram And No One Noticed
USA Today Sports
Michael Phelps secretly married Nicole Johnson way back in June in Maricopa County, Arizona.
This came as a blissfully happy surprise to most of us. But as it turns out, they had actually left us some clues to figure out they had gotten married.
The sweet couple had been dating for years and got engaged in early 2015. They have a son together, Boomer, who was born in May of this year and who features prominently (and adorably) in Phelps's videos on Facebook.
But we didn't know they were married until this Wednesday, when TMZ reported their marriage license was from June. Peter Carlisle, Phelps's agent and friend, officiated the wedding.
We may not have known the wedding was happening on June 13, but Johnson, who served as Miss California USA, actually did give us a hint about it on her Instagram.
On the day of their covert wedding, Johnson posted this:
The photo shows Phelps, Johnson and baby Boomer. Johnson wrote in the caption,
Such a memorable night with my lil fambam
So DUH, you guys, we really should have figured out from that hint the couple had, in fact, tied the knot. Get your stalking skills together!
Of course, it wasn't really much of a hint. Although Johnson was wearing white, it was a sweater over something else. And Phelps, for his part, is wearing workout clothes.
Honestly, though, that's pretty fitting for this ridiculously cute family. Despite Johnson's pageant history, they seem to spend most of their time in comfy clothes rather than all done up.
Neither Phelps nor Johnson has commented on the news of their wedding coming out.
Just last month, Johnson was telling "Access Hollywood" about their wedding plans, failing to mention they had already done the thing. She said,
It'll be small and intimate for the wedding, and then we're throwing a massive bash for everyone in the states. I've been planning as we've been leading up to this, so I think I have the wedding in order and now it's on to the party for the fun.
So, it seems like it's time for these winners to party.
Citations: Fox News